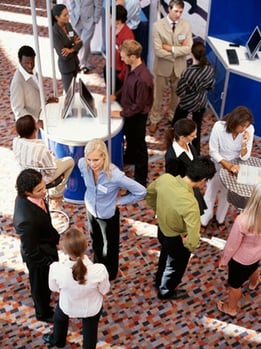 With so many changes in healthcare to include the introduction of new technologies and approaches to treating patients, it can be a challenge to stay on top of it all.
One way we like to keep our finger on the pulse of all things healthcare is through trade shows, conferences and other meetings.
For the CuraMedix team, these events are a great way for us to connect with our existing customers, better understand how they're doing, and learn what more we can do to support and train them. We also enjoy meeting new doctors to hear about innovative ideas and approaches that are starting to attract attention.
Interestingly, throughout each event, we noticed that our conversations in the booth and "on the floor" started following similar patterns. The topics that seemed to be part of the buzz include the following, in no particular order:
Covered versus non-covered options:

In the old days, patients' deductibles were, on average, about $300. In March, once those deductibles were met, patients viewed the rest of the year's healthcare as "free." Today, doctors are realizing that positioning treatment options as "covered" versus "non-covered" is far less relevant than explaining to the patient which course of action they would recommend based on the patient's criteria for care, which includes factors such as the complaint, issue, duration of systems, and desire to get better. With today's high deductibles, patients are much more cost conscious.
"Customized" patient communication:

Gone are the days when a doctor just told the patient what to do and the patient would adhere. Patients are savvier than ever. They have the ability to research their issue/condition prior to calling the doctor and, with high deductibles, they are more cautious about

how

they want to spend their money in order to get better. In response, doctors are finding the need to communicate with patients

so that they

better understand what success looks like for them.
More focus on marketing and social media:

When looking for a new doctor, patients may still be asking friends and family – but are also heavily relying on the Internet to tip the scale on their decision. A physician's online reviews and digital presence (including the practice's website), is often the patient's first look at the practice.
Attracting and retaining new patients:

Doctors increasingly recognize that patients have options on where to go for treatment and that, if they want their practice to grow and be successful, they need to think about how they are communicating with their community and peers to bring in new patients. And while attracting new patients is key, so is retaining them and making sure they don't have a reason to seek out another professional.
The need to differentiate:

Many physicians realize the importance of highlighting what makes them different from the the doctor down the street or in the next town over. Today's doctors feel the growing need to differentiate themselves, with factors that include anything from building accessibility, parking, office look/feel/presentation, staff, ease of making an appointment, and the

tools and technologies that they have incorporated into their practice to most effectively treat their patients.
Investing in new technologies:

There are lots of new tools out there to add to the arsenal

–

so it's critical for doctors to think about them on a few different levels. How will those new technologies best help patients? Is there sufficient evidence to back them? How quickly will doctors see a return on that investment?
A focus on sports medicine:

We're seeing many doctors who are looking to reach out to more sports enthusiasts, as this key group of patients has unique characteristics that may help determine their course of care: they are anxious to get back to their activities and are willing to pay for treatments that help them do so.
Non-invasive, non-surgical approaches:

More

patients are starting to look to surgery as a last-resort option; compared to several years ago when surgery was often viewed as the most aggressive (and therefore most effective) form of treatment.
Recent Events In the Spotlight
So where did our travels take us over the past few months? From March through May, we covered a lot of ground! From the CuraMedix headquarters here in Rhode Island, to ACFAS in Nashville, TN to Superbones Superwounds East in Teaneck, NJ.
Next up was the Midwest Podiatry Conference in Chicago, IL, followed by The Podiatry Institute's Surgical Pearls by the Sea in Newport, RI, both in April. Most recently, we attended the 2018 Region Three Meeting in Atlantic City, NJ.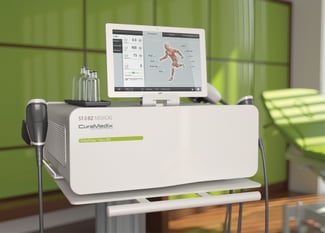 Left: At many of these events, we had the opportunity to showcase the brand-new OrthoPulse Ultra 200 (radial), shown on left. We also showed the OrthoPulse Ultra (radial) and the DuoLith SD1 TT (focused shock wave).
Questions for Our Team?
What are some of the healthcare trends to add to this list? We'd love to hear them, so just let us know by commenting below! Want to connect with us on how EPAT (Extracorporeal Pulse Activation Technology, also referred to as shock wave) can help your practice build on some of the trends mentioned here? Let's talk!