The Latest Findings From CuraMedix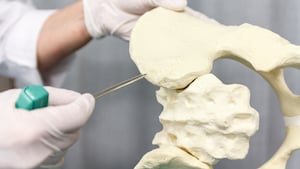 CuraMedix partners, and world-renowned experts in regenerative medicine, Prof. Dr. Ludger Gerdesmeyer, MD, Ph.D., FIPP, and Prof. Dr. Karsten Knobloch, FACS, were among the authors of a recent study published in Electromagnetic Biology and Medicine.
The study investigates a new modified pulsed electromagnetic field therapy known as Electromagnetic Transduction Therapy (EMTT). It explores the effects of EMTT on human bone marrow mesenchymal stem cells (MSCs).
For a deep research dive, read the study in its entirety, "Stimulation of human bone marrow mesenchymal stem cells by electromagnetic transduction therapy – EMTT."


What is Magnetic Field Therapy?
Magnetic field therapy devices produce a therapeutic magnetic field for pain relief and recovery for a variety of medical conditions. Many health professionals across multiple fields use magnetic field therapy for pain management and more.
PEMF
Pulsed electromagnetic field (PEMF) therapy has been clinically used to stimulate the healing process for several conditions. To date, many procedures for which it is used do not have supporting research data to back the efficacy.
EMTT
The latest disrupter in the field of regenerative medicine is Extracorporeal Magnetotransduction Therapy (EMTT). EMTT is a newcomer and is evidence-based and has been proven effective in several clinical studies for individual indications.

EMTT is technically based on high-intensive PEMFs with a magnetic field strength between 80 and 150 mT. EMTT uses high-energy electromagnetic radiation in the regional trauma area.


EMTT's Impact on Human Bone Marrow Mesenchymal Stem Cells
PEMF is FDA approved as an effective and safe therapy for healing fractures, muscle stimulation, urinary problems, cervical fusion, depression and anxiety, brain cancer and osteogenesis stimulation, bone fractures, and non-unions. Over the past ten years, various PEMF devices and technologies have been designed, but most clinical trials failed to prove their efficacy in bone healing.
In this experimental study, researchers investigated the effect of EMTT on human bone marrow mesenchymal stem cells (MSCs), simulating ordinary outpatient care by using the following treatment.
Treatment length was 10 minutes in duration, three times per week, and was conducted within a 2-week timeframe. To determine the efficacy of the EMTT in treating human bone marrow mesenchymal stem cells, cell viability was assessed as well as gene expression of bone regenerative factors and VEGF-A (vascular endothelial growth factor) secretion after 7 and 14 days of treatment.


Study Materials and Methods
Femoral heads were obtained from excess material collected during total hip replacement operations with full consent from patients. Review 3 phases below:
Phase 1: cells were appropriately collected and incubated.
Phase 2: MSCs were stimulated;
Phase 3: MSCs were used for the experiments by seeding, then cultured for 14 days.
The device used in the study delivered EMTT impulses with a magnetic field strength in the middle of a current-carrying twisted loop with a diameter of about 20 cm.
Magnetic field strength between 80 and 150 mT
Impulse release frequency between 1 and 3 Hz
Magnetic field intensity between 64,000 and 120,000 A/m i
Resonant base frequency is 120 kHz.
Magnetic field strength is defined by the effective transduction power above 60 kT/s for EMTT devices.


Mesenchymal Stem Cell Treatment with EMTT
In the study, MSCs were treated with either a magnetic field
strength of 80 mT (group A) or 150 mT (group B) and compared to the control group (group C) containing untreated MSC cultures in order to find the most effective intensity configuration.
Cellular viability and metabolic activity were analyzed on the MSCs on days 1, 7, and 14.
The results are in! The VEGF-ELISA on day 7 of EMTT treatment with 80 mT demonstrates a significantly higher VEGF concentration than the untreated control group. The study shows that high-intensive electromagnetic impulses resulted in no harmful effects on MSC cultures. These results indicate the substantial role in the cell-stimulating effect of EMTT.
The regenerative effects of EMTT impulses on soft tissue are remarkable. This vastly expands safe, non-invasive treatment options in orthopedic surgery and traumatology.


Adding EMTT to Your Continuum of Care is a Game-Changing Opportunity
EMTT distinguishes itself due to its high oscillation frequency, which allows for deeper penetration and broadening the range of applications.
As the evidence continues to pour in on the clear clinical benefits of treating patients with life-changing innovative technology like EMTT, perhaps it's time to consider how the addition of EMTT can revolutionize patient care and practice growth.
Extracorporeal Magnetotransduction Therapy allows for a new world of possibilities in regeneration and rehabilitation. EMTT enables practitioners to meaningfully expand the scope of treatment options offered to patients to address musculoskeletal disorders and tendinopathies. This innovative technology is another way to facilitate faster recovery times for patients to get them better faster without surgery, unnecessary risk, or downtime.
For more from Prof. Dr. Ludger Gerdesmeyer, be sure to watch this webinar, "The Official U.S. Introduction to EMTT and MAGNETOLITH Debut."
Have questions about how adding game-changing EMTT to your continuum of care can be a win-win for practice and patients? Contact us today, and we'll connect you with one of our team experts.