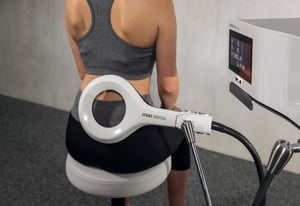 Extracorporeal Magnetotransduction Therapy (EMTT), a form of magnetic therapy, opens up a new world of possibilities in regeneration and rehabilitation. EMTT enables practitioners to broaden the scope of treatment options offered to patients to remedy musculoskeletal disorders and tendinopathies. This innovative technology is another way to help patients get better faster without surgery, unnecessary risk, or downtime. CuraMedix recently launched a new and noteworthy EMTT device, the MAGNETOLITH, powered by STORZ Medical, into the U.S. market.
MAGNETOLITH, Extracorporeal Magnetotransduction Therapy (EMTT), provides a new non-invasive procedure option for treating an array of musculoskeletal diseases and dysfunction. This device is outstanding and makes possible a wide range of applications while ensuring patient comfort and ease of use for practitioners.
It's important to point out that EMTT relies on a different operating mechanism than ESWT. With ESWT, the mechanism of action depends on high-energy acoustic/physical signals in a local treatment area. In contrast, EMTT acts using high-energy electromagnetic radiation in the regional trauma area. And while they differ, the treatment modalities are highly complementary.
Explore the advantages of EMTT at a glance:
Non-invasive, outpatient therapy – with almost no side effects
Used for musculoskeletal diseases
Wide range of treatment options
High level of patient comfort and easy to use
EMTT is an exceptional complement to ESWT/EPAT


MAGNETOLITH – Electromagnetic Therapy Device Offers New Treatment Possibilities
Compared to other electromagnetic therapy devices, EMTT distinguishes itself due to its high oscillation frequency of 100—300kHz, thus enabling deeper penetration and broadening the range of applications. EMTT is evidence-based and has been proven effective in several clinical studies for individual indications.
The advent of this exciting electromagnetic therapy technology means that medical professionals can now offer superior tissue healing technology to their patients. This empowers practitioners to provide a safe, comfortable, practical and streamlined treatment experience.
Consider the array of possible musculoskeletal treatment applications of EMTT:
Degenerative joint diseases and disorders
Wear and tear conditions: osteoarthritis (knees, hips, shoulders, elbows, feet), herniated discs, spondylarthrosis
Chronic pain treatment: back pain, lumbago, tension, radiculopathy
Sports injuries: Inflammation of tendons and joints, tendon overuse syndromes, inflammation of the pubic bone
Prevention or retardation of disuse atrophy to temporarily increase local blood circulation in healthy leg muscles
Post-surgical stimulation of calf muscles: preventing venous thrombosis
Maintaining and improving range of motion
Temporary relief of sore and achy muscles
Relaxation of muscle spasm


How are Electromagnetic Therapy Devices, Like the MAGNETOLITH, Used in a Practice Setting?
While many electromagnetic devices exist, differences are vast. For this discussion, we'll focus on EMTT treatment using MAGNETOLITH by STORZ Medical. STORZ Medical, based in Switzerland, has been developing innovative, therapeutic solutions for over 30 years, which is why the trust quotient is high among medical professionals and patients alike.
You'll find this electromagnetic therapy device to be straightforward to use and operate in a practice setting. When receiving treatment using the MAGNETOLITH device, patients do not have to disrobe, the device is effective and offers fatigue-free operation for medical professionals, and pulses and frequency are adjustable up to 10 pulses per second.
The applicator is simply positioned directly above the region of the body being treated. Treatment typically takes anywhere from 5 to 20 minutes depending upon the indication and frequency and may be repeated up to 8 times over a period of several weeks.
Treatments may be carried out by the doctor or a medically trained staff specialist.

EMTT: Operating Principle of this Electromagnetic Therapy Machine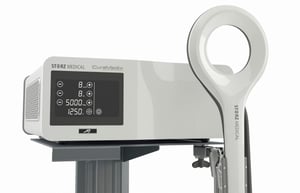 During the treatment course of EMTT, painful areas of the body are targeted by the electromagnetic therapy machine, generating high energy magnetic pulses, the field strength of which lies within the therapeutically effective range – 10 mT (millitesla) and upward.
Essentially, EMTT can cause biological effects, including the therapeutically effective magnet field, the normalization of the membrane potential, and the mechanical activation of the ionic channels. The prerequisite to all of this is membrane permeability.
Consider that a stable cell membrane ensures such permeability for vital substances. EMTT can positively influence the chemical reaction of the cell potential. Also, in areas of dysfunction, the sodium-potassium pump can be successfully reactivated so that physiological cell processes can be normalized.


Ready to Harness the Power of EMTT?
CuraMedix is dedicated to partnering with medical professionals to integrate a full range of innovative, non-surgical tools, devices, and technologies into their continuum of care. MAGNETOLITH is the newest edition to a robust lineup of innovative tools offered to our medical partners.
Thanks to the non-invasive nature of EMTT, it's especially appealing to patients, and treatments can be customized and tailored to the needs of each patient. Additionally, EMTT is highly compatible and beneficial when used in conjunction with ESWT/EPAT to treat musculoskeletal disorders. You'll discover the benefits of adding EMTT to your continuum of care are both clinical and financial.
Since a MAGNETOLITH is so new to the U.S. market, it's important to turn to internationally renowned thought leaders in the field of regenerative medicine who are raving about the power of EMTT; take a look:
"For me, the MAGNETOLITH complements the combined shock wave therapy in a congenial way. In my sports practice, I see clear synergistic effects on diseased tendons and bones that result in accelerated tissue healing. This is of immense importance,
especially for the top athletes I look after."
Prof Dr Karsten Knobloch, Hanover, Germany

"At my clinic and practice, I use the MAGNETOLITH primarily for degenerative joint, muscle and tendon disorders, but also for inflammatory forms of musculoskeletal disorders, both as a standalone therapy and as a supplement to extracorporeal shock wave therapy (ESWT). Treatment with the MAGNETOLITH is incredibly straightforward. Depending on the clinical picture, I can tailor the pulse intensity and pulse repetition rate to my patients. For a localized treatment, I secure the applicator above the patient using
an articulated arm. If I'm working over a larger area, I guide the applicator manually."
Prof Dr Ludger Gerdesmeyer, Kiel, Germany
For more of a deep dive and compelling information from Dr. Ludger Gerdesmeyer, be sure to watch this webinar, "The Official U.S. Introduction to EMTT and MAGNETOLITH Debut."
Have questions about how adding game-changing EMTT to your continuum of care can be a win-win for practice and patients? Contact us today, and we'll connect you with one of our electromagnetic therapy experts.