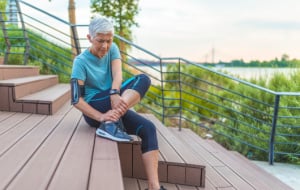 How often are you treating athletes with lower limb injuries in your medical practice?
Emerging technologies in sports medicine, like shock wave, play a pivotal role in getting athletes back in motion quicker, with reduced pain and the potential for improved performance. A combination of radial pressure wave and focused shock wave technology used in sports medicine enables physicians to offer a valuable non-invasive treatment option to their continuum of care.

Why is technology used in sports medicine, such as ESWT, so vital to patient outcomes?
Because as a recently published study states, over the past two decades, shock wave has been documented to improve pain and functional outcomes for musculoskeletal conditions including Achilles, patellar, proximal hamstring, and gluteal tendinopathies, as well as plantar fasciitis, medial tibial stress syndrome (MTSS), and bony non-unions or stress fractures.
Prior studies have focused on the efficacy of using ESWT in the treatment of musculoskeletal disorders on a mixed population of both athletes and non-athletes. This recent scientific literature review featured in Current Physical Medicine and Rehabilitation Reportsputs the spotlight on evaluating current evidence on using both radial pressure wave and focused shock wave in the treatment of lower limb injuries among the athletic population only.


How can the use of shock wave for sports injury treatment improve the lives of athletes?
Athletes, by their nature, are passionate about staying in motion. You can get your patients back to their favorite sport faster with ESWT as it is a non-invasive modality in sports injury treatment that requires no downtime.
For athletes, the resulting reduction in pain, inflammation, and dysfunction improve their quality of life soon after a few short treatments. Compared with invasive surgical procedures and steroidal injections, ESWT is a safe, conservative treatment alternative increasingly shown to produce impressive outcomes.
Because athletes have a high prevalence of lower extremity injuries, the favorable safety profile for treatment with ESWT is especially noteworthy.
What methodology was used in the study on ESWT for lower limb sports injuries?
Leading physicians Haylee E. Brogstrom, MD, Amol Saxena, DPM, and Adam S. Tenforde, MD conducted this impressive literature review utilizing the PubMed database and Google Scholar search engine to identify primary literature related to the use of radial pressure wave and focused shock wave in lower limb sports injuries. Since they found limited published studies evaluating ESWT solely in athletic populations, they expanded to include studies with retrospective designs and subject populations with at least 50%athletes.
In all, twenty-two articles on eight painful lower extremity conditions were reviewed by a team of physician-researchers. The team took a deep dive into an array of research studies including randomized controlled trials (RCT), prospective cohort (PC), retrospective case control (RCC), and retrospective case series (RCS).
The eight functional lower limb injuries explored in relationship to shock wave include the following:
Medial tibial stress syndrome
Patellar tendinopathy
Plantar fasciitis
Proximal hamstring tendinopathy
Stress fracture
Osteitis pubis
Detailed findings can be viewed by diagnosis within the research publication; click here to view the complete study.


What are the outcomes when chronic sports injuries are treated using ESWT?
Many studies report that notable outcomes are delivered when chronic sports injuries are treated using radial pressure wave and focused shock wave. This literature study confirms the pain-relieving and/or functional benefit of using ESWT for common lower extremity tendinopathies, plantar fasciitis, and medial tibial stress syndrome.
Overall, ESWT has been shown to deliver multiple effects contributing to tissue healing and pain relief for many challenging musculoskeletal injuries and conditions.
CuraMedix is on the cutting edge of providing medical professionals emerging technologies in sports medicine. The company leads the way as the top US distributor of STORZ Medical radial pressure wave and focused shock wave devices. This technology is the focus of the recently published study.

Are you considering EPAT/ESWT for your medical practice? Contact us today to schedule a demo.