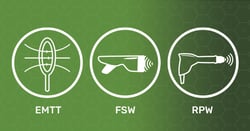 When you think of disruptive innovation examples, what first comes to mind?
Every so often, technologies come along that shake things up and make a revolutionary impact on medical practitioners and their patients. Innovative medical technology makes what was formally unimaginable – entirely possible. Creators challenge the limits of physics and unleash technologies with the power to deliver unprecedented patient outcomes. It's no wonder that the medical community is abuzz about certain innovative medical technologies and how they disrupt the status quo.
Incorporating 'the right' modern technology breathes a wealth of possibilities into healthcare and can lead to extraordinary practice growth made possible through exceptional clinical results. Disruptive technology creates new horizons in medicine and broadens healing options while simultaneously delivering next-level patient care.


3 Disruptive Innovation Examples in Medicine Today
Without question, ESWT, EPAT, and EMTT are standouts for disruptive innovation examples in medicine – we hear this confirmed time and again from our practice partners. These technologies are veritable game-changers for those who harness their power and put them to use.
Many medical practices have been redefined by the trifecta of disruptive innovations in the spotlight below:
Extracorporeal Shock Wave Therapy (ESWT)
Focused shock wave, also known as ESWT (Extracorporeal Shock Wave Therapy),

penetrates deep into tissue and provides focused power at targeted depths

.
This non-invasive treatment delivers shock waves to treat chronic, recalcitrant tendinopathies as well as injured soft tissue to reduce pain and facilitate healing and is recognized as an evidence-based technology and effective alternative to surgery.


To find out how to get your patients moving with shock wave, be

sure to read on for practical tips,

ESWT and EPAT Treatment Tips to Get Patients Back in Action!
Extracorporeal Pulse Activation Technology (EPAT)
A proprietary form of shock wave therapy, Extracorporeal Pressure Activation Therapy (EPAT), is well suited for patients who suffer from acute and chronic musculoskeletal disorders as well as connective tissue disorders. EPAT is sometimes referred to as radial pressure wave and features high-energy acoustic pressure waves to treat patients in a non-invasive manner and requires no downtime.
Acclaimed as one of today's most innovative medical technologies, EPAT revolutionizes treatment possibilities. It's evidence-based, accelerates healing, treats the root cause of pain, and dramatically speeds up recovery time.
To learn more about EPAT, a proprietary form of ESWT, read our blog EPAT®: 5 Ways Shock Wave is a Treatment Game-Changer.


Extracorporeal Magnetotransduction Therapy (EMTT)
The latest disruptor on the medical scene is EMTT, a form of magnetic therapy, which opens up a host of new possibilities in regeneration and rehabilitation. By empowering practitioners to broaden the scope of treatment options offered to patients, EMTT is a remarkable tool to remedy musculoskeletal disorders and tendinopathies. This revolutionary technology is yet another way to help patients get better faster without surgery, unnecessary risk, or downtime. CuraMedix only recently launched this noteworthy EMTT device, the MAGNETOLITH, powered by STORZ Medical, into the U.S. market.
For deeper understanding and compelling information from world-renowned Dr. Ludger Gerdesmeyer, be sure to watch this webinar, "The Official U.S. Introduction to EMTT and MAGNETOLITH Debut."


Often, a tandem approach to treatment is optimal and produces multiplied benefits of both treatments. Shock wave treatment can be paired with and enhanced by Extracorporeal Magnetotransduction Therapy (EMTT) and other therapies, including Platelet-Rich Plasma (PRP).
Utilizing the entire arsenal of regenerative treatment technologies in your practice expands your growth opportunities exponentially while also improving what's available to patients.
Today, patients seek non-surgical treatment options for faster healing — they want treatment with no downtime, no anesthesia, and no risk. Healthcare providers can add shock wave therapy, EMTT, and other innovative regenerative solutions, offered by CuraMedix, to their practice to improve outcomes and help their patients get back to the activities they love faster.
Adding Innovative Medical Technologies (Shock Wave and EMTT) to Your Continuum of Care
Ready to redefine patient care and transform your medical practice?
Expand your vision and the boundaries of patient care in your practice with innovative medical technologies (evidence-based, non-invasive), products, and procedures from CuraMedix.
CuraMedix is proud to represent STORZ Medical as the leading full-service U.S. distribution partner supporting the complete suite of STORZ Medical, offering the best examples of disruptive innovation, including radial pressure wave, focused shock wave, and now High Energy Magnetotransduction (EMTT) devices.
Because CuraMedix partners closely with our healthcare clients, you'll get unmatched marketing support needed to facilitate the practice growth you aim to achieve.
Innovative medical technologies like ESWT, EPAT, and EMTT are currently used with enormous success in the following specialties: orthopedics, sports medicine, pain
management, rehabilitatio­n, podiatry, wound healing, aesthetic medicine, urology, neurology, cardiology, vascular, and more.
If you are interested in leading the way with innovative medical technologies, we're here to help
We'd love to connect to answer questions you may have about the possibility of adding shock wave or EMTT to your continuum of care. Contact us today, and we'll connect you with one of our knowledgeable team members.