What's your go-to treatment solution for patients suffering from osteoarthritis of the hip or knee?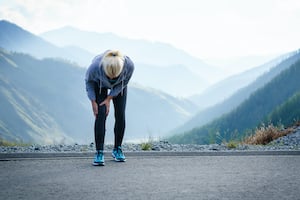 Osteoarthritis (OA) of the hip and knee is among the most well-known joint disorders seen in medical practices today. Cortisone injections have long been among the most common treatments offered to patients suffering from joint pain, particularly in the hips and knees.
In a special report published in the journal Radiology, researchers took a close look at intra-articular corticosteroid injections in the hip and knee and examined whether they do more harm than good.
Curious as to whether or not corticosteroids for osteoarthritis are safe? You can view detailed findings within the publication; click here to view the complete study.


What are the negatives of cortisone injections for osteoarthritis?
In summary, there's an increased clinical awareness of adverse joint events after intra-articular corticosteroid injections.
Notable discoveries within the Radiology study include the negatives of cortisone injections and reveal the need for additional research:
Adverse joint events after corticosteroid injection, including accelerated osteoarthritis progression, subchondral insufficiency fracture, complications of osteonecrosis, and rapid joint destruction with bone loss, are becoming more recognized by physicians and radiologists, who may consider adding these risks to patient consent.
Specific imaging findings and patient characteristics could only potentially assist radiologists and other physicians in identifying which joints are at risk for complications after IACS injections combined with local anesthetics.
The radiology community should encourage high-quality research to understand further these adverse joint findings and how they possibly relate to the IACS injections to prevent or minimize complications.
No patient should have to endure damaging side effects and setbacks like this, and they don't have to because safe alternative treatment is an option.
Looking for a proven non-invasive alternative to cortisone injections?
Look no further; there is a better way. Shock wave has been shown to be extremely effective in the treatment of osteoarthritis and many musculoskeletal disorders. Patients who endure the pain of osteoarthritis are seeking pain relief and resolution. You can get your patients back to their favorite activities faster with EPAT/ESWT. Because shock wave is a non-invasive modality that requires no downtime, it's the ideal alternative to cortisone injections.
Compared with steroidal injections, EPAT/ESWT is a safe, conservative treatment alternative increasingly shown to deliver remarkable outcomes. Today patients are looking for safe, non-invasive treatments that genuinely facilitate and support their wellness.
Some practitioners liken steroids to an ineffective band-aid that can harm patients, whereas shockwave is recognized as regenerative and delivers impressive outcomes by getting to the root of the dysfunction.
9 Benefits of EPAT/ESWT that exemplify the 'do no harm principle.'
Does your medical practice honor the 'do no harm principle'? There's a simple solution for your patients who suffer from the pain and discomfort of osteoarthritis. EPAT/ESWT, often referred to as shock wave, is an evidence-based treatment that gets to the root cause of pain, facilitates healing, and quickens recovery.
EPAT/ESWT facilitates your body's regenerative potential rather than further damaging an area that has degenerated because of low blood flow, tissue injury, overuse, weakness, or steroid treatment.
These nine benefits of EPAT/ESWT epitomize the true meaning of 'first, do no harm':
Evidence-based
Non-invasive
No anesthesia required
No risk of infection
No scarring
No downtime
Over 80% patient satisfaction
Cost effective
Faster, easier healing
Avoid exposing patients to unnecessary risk through best in class care and proven treatment modalities.


Is it time to consider the advantages of a regenerative approach like EPAT/ESWT?
Utilizing regenerative technology like EPAT/ESWT empowers you to treat patients with the latest scientifically proven therapy while mitigating the potential of unnecessary side effects. This is a win-win for medical practices and patients alike. To explore more about the importance of shock wave therapy in regenerative medicine, watch the webinar.
The more you know about EPAT/ESWT and other regenerative solutions from CuraMedix, the more effectively you can integrate it into your practice. Take a closer look at the science behind the technology by downloading this information-packed white paper.
Time and again, shock wave therapy has been shown to speed up tissue healing and pain relief in several challenging musculoskeletal injuries and conditions. Take a look at its usefulness in treating these common conditions: lower extremity injuries, Achilles tendinopathy, and running-related injuries.
Feel free to visit the healthcare provider testimonial page to learn more about what other physicians have to say about shock wave.
Contemplating whether EPAT/ESWT is right for your medical practice? Contact us today to schedule a demo.