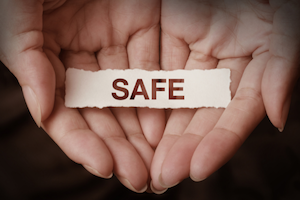 Overwhelming evidence supports the safety and efficacy of shock wave therapy as a non-invasive approach to treating musculoskeletal and soft tissue conditions. Shock wave delivers exceptional outcomes with little to no side effects. Occasionally, patients will have some minor swelling, bruising, or sensation in the targeted treatment area at the outset of treatment; even so, recovery time is quite rapid.
This safe, effective treatment is a sought-after option and often replaces the need for surgery and other invasive treatments.
Who should skip shock wave?
While the side effects for most are minimal, there are particular times when shock wave is contraindicated:
If a patient is pregnant
If a patient has a tumor near the treatment site
If a patient has a blood clotting disorder
If the patient has a pacemaker, the area should be avoided


Are there different types of shock wave therapy?
The two types of shock wave are radial pressure and focused shock waves. These regenerative technologies work on their own or ideally in tandem with one another to increase the efficacy of clinical procedures.
Extracorporeal Pulse Activation Technology (EPAT) is often referred to as radial pressure wave, while Extracorporeal Shock Wave Therapy (ESWT) is known as focused shock wave. Both are innovative, evidence-based technologies used worldwide to stimulate tissue repair and regeneration.
ESWT and EPAT are regularly used in the following specialties: orthopedics, sports medicine, pain management, rehabilitation, podiatry, wound healing, aesthetic medicine, urology, neurology, cardiology, vascular, and more.
New uses for shock wave therapy are being revealed, so other uses are sure to be on the horizon.


Extracorporeal Pulse Activation Technology (EPAT) – Radial Pressure Wave
Since the radial pressure wave produces the most significant energy at its source and weakens the farther it travels, it's best suited for large treatment areas.
Targeted tissue is superficial, 3-4 cm treatment depth

Low energy density
Slow impulse

Extracorporeal Shock Wave Therapy (ESWT)
– Focused Shock Wave
Focused shock waves penetrate deeper into tissue and provide focused power at targeted depths.
Reach a depth up to 12cm
Target precise area with optimal energy delivery
Fast impulses and high energy acoustic pressure


Tips for getting started the right way with shock wave
When you're ready to define a new standard of patient care for your practice, it's essential to do it the right way for the best outcomes and set your practice apart.
Choosing a worthy company to partner with is supremely important when investing in medical technology like shock wave. By partnering with the right company, you'll be ensuring that you get the most out of the technology, which contributes to your success in incorporating it into your practice and continuum of care. You'll want a distributor to be there for you from the outset, and more importantly, one that also provides post-purchase follow-through, including ongoing support to maximize your investment.
CuraMedix is the leading US distributor of STORZ Medical radial pressure wave and focused shock wave devices, as well as the new EMTT device, the MAGNETOLITH. CuraMedix offers dedicated marketing support to its healthcare partners to assist them in promoting their practice and their new technologies.
For a thorough look at EPAT, a proprietary form of ESWT, read our blog EPAT®: 5 Ways Shock Wave is a Treatment Game-Changer. To learn more about how to get your patients moving with shock wave, be sure to read on for actionable tips on our blog ESWT and EPAT Treatment Tips to Get Patients Back in Action!

Time to Add Safe, Evidence-Based Shock Wave to Your Continuum of Care?
By investing in the gold standard of regenerative medicine – with ESWT and EPAT – you can offer patients safe solutions to restoring the body's normal healing process.
You can deliver outstanding patient outcomes and increase practice revenue by investing in innovative shock wave devices that are revolutionizing restorative medicine today. These safe, non-surgical solutions treat the root cause of pain, accelerate the healing process, and elevate the quality of care offered to your patients.
We'd love to connect to answer questions you may have about the possibility of adding shock wave or EMTT to your continuum of care. Contact us today, and we'll connect you with one of our knowledgeable team members.