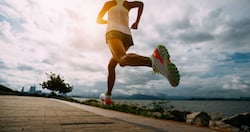 Shockwave therapy is fast becoming today's most innovative approach to treating acute and chronic musculoskeletal pain, tendinopathies, connective tissue disorders, and more.
Known to ignite the body's natural healing capabilities, shockwave therapy is a proven modality that accelerates healing timelines for a wide range of conditions. Shockwave therapy is hailed for stimulating blood flow, increasing growth factors, and facilitating tissue regeneration.
This unique technology is an evidence-based, non-invasive, risk-free modality that improves clinical results in regenerative medicine. Shockwave has been used for over two decades to treat musculoskeletal disorders, tendinopathies, and soft tissues. There is no telling what medical advances will come next regarding this innovative technology as new uses and protocols continue to be identified.
Shockwave's identity as a healing accelerator is evident and backed by science in wound and burn healing, musculoskeletal disorders, tendinopathies, aesthetics, and more.

Healing Wounds…FASTER
Shockwave therapy continues to make headlines for being particularly efficacious in treating wounds and is shown to accelerate healing dramatically.
Historically, diabetic wounds have been incredibly resistant to most treatment efforts, and shockwave has been a tremendous disruptor in this realm.
Shockwave encourages tissue regeneration and is favorable in treating several cutaneous pathologies, including ulcers (neuropathic and diabetic), bed/pressure sores, wounds (post-surgical and traumatic), skin burns, skin flaps and grafts, and more.
Because ESWT modulates cellular repair and inflammatory response, tissue regeneration is made possible and is visibly evident. To optimize healing potential and deliver successful wound closure, medical professionals must conduct a thorough wound evaluation prior to beginning shockwave treatment.

New Hope in Burn Rehabilitation
Extracorporeal Shockwave Therapy (ESWT) has clear clinical benefits in treating burns. Burn patients face a cascade of challenges ranging from acute pain and itching, which can be amplified when applying dressings or as a result of grafting, to the appearance of hypertrophic scars, which restrict mobility.
Thankfully, ESWT effectively treats hypertrophic scars and brings about faster healing as well as anti-fibrotic effects. While treating burn scar tissue with shockwave, microscopic injury occurs and acts to break up collagen fibers, which triggers the modeling of the scars.
Both tissue regeneration and advanced healing occur thanks to shockwave treatment. This revolutionary technology effectively stimulates angiogenesis and accelerates epithelialization when treating burn wounds. There is renewed hope for burn patients and those dedicated to treating them.
Explore this Level 10 volume, which offers a scientific deep dive into burns and wound care "ESWT in Aesthetic Medicine, Burns & Dermatology"

Tendinopathies – No Match for Shockwave
Clinical studies have repeatedly supported the efficacy of treating tendinopathies with both radial pressure wave (EPAT) and focused shockwave (ESWT). Among medical professionals, shockwave therapy is a recognized treatment as a radical change agent for its ability to produce biological effects which amplify healing abilities and deliver impressive patient outcomes.
Shockwave delivers mightily, biologically speaking, because it influences neovascularization in the tendon tissue, which triggers extensive capillary activity. Shockwave acts simultaneously on a cellular and extracellular level, which is advantageous to tendon structure.
We've written extensively on shockwave's effectiveness in treating many tendinopathies. Be sure to follow the links for further insights on particular tendinopathies and how shockwave expeditiously enhances healing in the conditions noted below:
Patellar Tendinopathy
Tibialis Posterior Tendinopathy
Running Related Injuries
Tennis and Golf Elbow
Shockwave is a powerful regenerative therapy that brings new life back to damaged tendons and effectively relieves pain while promoting the restoration of compromised tendons.

Tackle Musculoskeletal Disorders with Shockwave
Medical disruptors, EPAT (Extracorporeal Pulse Activation Technology), and Extracorporeal Shockwave Therapy (ESWT) are innovative approaches to treating acute and chronic musculoskeletal pain and connective tissue disorders. Both technologies are science-based and are backed by an expansive body of evidence proving impressive healing outcomes, in short order, in many musculoskeletal conditions, including:
Osteoarthritis
Acute bone fractures/stress fractures
Back and neck pain
Soft-Tissue injuries
Acute Muscle Injuries
Acute and Chronic Pain: bone, joint, muscle, tendon, ligament
Overuse injuries/Sports injuries
Carpal Tunnel
Dupuytren's Contracture
Spasticity
Fast and effective healing outcomes are meaningful to patients and medical professionals alike. It means patients can return to sports or activities they love as quickly as possible, with no downtime. And for many, results like that are priceless.

AWT for Aesthetics – Rapidly Turning Back the Hands of Time
In a society intrigued by image, Acoustic Wave Therapy is seen by many as a veritable fountain of youth.
Beginning in 2009, shockwave was expanded for use in aesthetic settings to treat imperfections, including dimpling skin, fat, and loose skin, and to help with body contouring and remodeling. Acoustic Wave Therapy (AWT) is now used in facial treatments to redefine contours, treat expression lines (wrinkles and fine lines) and improve facial skin's firmness and health. In the quest for an improved appearance, one no longer needs to go under the knife or endure repeated injections to achieve dramatic results, thus improving self-confidence.
In the world of aesthetics, a high value is placed on physical appearance, which profoundly affects how you feel about yourself. By enhancing health, beauty, and wellness, Acoustic Wave Therapy delivers abundantly, with no pain, needles, or fillers—and that's a winning proposition for both practitioner and client. In the case of AWT, healing occurs physically but has an impact on emotional health as well.

Help Fast-Track Healing for Patients by Adding Shockwave to Your Plan of Care
Looking to advance the healing of conditions for your patients with ESWT?
If so, shockwave therapy gives you a competitive advantage and redefines treatment possibilities – whether addressing wounds, burns, pain, musculoskeletal, or other challenging conditions. By offering a non-invasive approach with no downtime, you can provide an innovative care plan resulting in best-in-class outcomes.
By adopting this breakthrough technology, you can achieve new heights in practice growth in addition to noteworthy patient healing. It's why evidence-based medical technologies like ESWT, EPAT, and EMTT are increasingly viewed as essential tools.
Embrace innovation and expand your treatment options with regenerative technologies and products from CuraMedix. As the leading U.S. distribution partner, we proudly represent STORZ Medical and offer the entire suite of products, including radial pressure wave, focused shockwave, and 'High Energy" Magnetotransduction (EMTT) devices to support our medical partners.
Should you have any questions or require assistance, reach out to us today. Our device experts are ready to connect and provide the answers you seek.