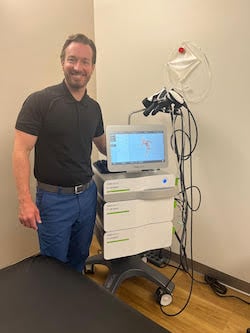 Peer insights are an invaluable and trusted resource for medical professionals seeking to integrate regenerative medicine technologies into their continuum of care. Garnering knowledge from a physician actively treating patients with ESWT, EPAT, and EMTT facilitates and inspires effective implementation.
In the latest Institute for Tissue Regeneration & Repair webinar, you'll learn from Dr. Brice Blatz, MD. While serving as the new Medical Director of CuraMedix, he is also one of the leading physicians at RestorePDX Spine & Interventional Orthopedics in Oregon.
Dr. Blatz is double board certified in Family Medicine and Sports Medicine and is a procedural-based practitioner focusing on Musculoskeletal (MSK) regeneration, ortho-biological and regenerative therapies.
Hear from Dr. Blatz for insights on how he has successfully integrated regenerative medicine technologies, including Extracorporeal Magnetotransduction Therapy (EMTT® ), EPAT (Radial Pressure Wave), and ESWT (Extracorporeal Shockwave Therapy) for optimal patient outcomes. Be sure to view this engaging and inspiring webinar, "Onboarding and Integrating Shockwave and EMTT for Optimal Success."
Here's an overview of what you'll learn.

Utilizing Shockwave and EMTT in Practice
In his practice, Dr. Blatz leverages the power of these technologies (ESWT, EPAT, and EMTT) to treat acute and chronic musculoskeletal conditions. He relies on these technologies to address acute and chronic MSK disorders with therapeutic modalities in a high-level regenerative medicine clinic featuring two large procedure suites. He is passionate about the comprehensive advantages of utilizing Shockwave and EMTT to accelerate healing. The addition of these technologies has dramatically expanded the ability to provide a higher level of patient care and noteworthy outcomes.
First and foremost, Shockwave and EMTT have disrupted medicine as we know it by providing evidence-based, non-invasive treatment options that get to the very root of the problem to fix it rather than simply addressing symptoms. He explains to his patients, "The technologies use high-energy ultrasound and electromagnetic waves to make changes at the cellular level, thus re-educating dysfunctional tissue."
Shockwave is something he finds ideal for treating everyone, from athletes who want to return to play as quickly as possible to workers who, in some instances, can't afford to and don't want to take time off. Focused shockwave targets deep within the tissue, whereas radial pressure wave is akin to a pebble dropped in water, creating concentric circles with the highest energy at the skin surface penetrating downward.

Acute and Chronic Issues are Responsive to Regenerative Technologies
In practice, Dr. Blatz frequently treats acute and chronic musculoskeletal conditions with regenerative technologies.
Before working in RestorePDX, Dr. Blatz was in practice with his father, an orthopedic surgeon. During that time, he was introduced to radial pressure wave and relied upon it pre-op and post-op for shoulder patients. Most patients with rotator cuff disease also had tight muscles; in those cases, shockwave loosened up hardened muscles and provided a nice bridge and transition to rehabilitation. These eye-opening results led him to delve into deeper research. He uncovered the effectiveness of shockwave in Trigger Point treatment, where he's seen it improve the strength matrix of the tendon, stimulate blood flow, and blunt pain in the area.
Now, a look at hard tissue–there is substantial evidence supporting shockwave for the healing of non-union fractures. He is particularly excited about the implications for effectively treating bone lesions, as he has repeatedly seen positive outcomes. Many with chronic injuries have bone lesions accompanied by arthritis.

Combining Modalities and Orthobiologics to Advance Healing
It is not uncommon to combine treatment modalities for enhanced clinical outcomes. Dr. Blatz has frequently relied upon orthobiologics in combination with shockwave when treating patients. These powerful combinations can amplify positive effects, and he has seen improvement in pain and function scores as well as a decrease in bone lesion size.
In the case of PRP, studies confirm that shockwaves actually activate PRP and accelerate multiple healing factors. Also, EMTT is an excellent complementary therapy to ESWT and EPAT.

Achieving Practice Differentiation and Growth
According to Dr. Blatz, shockwave and EMTT have revolutionized how he looks at every patient that comes through the door. Expanding the horizons of non-invasive options is a practice game-changer, and these technologies have proven instrumental in establishing clear practice differentiation.
Offering an array of non-invasive regenerative modalities is advantageous to attracting an entirely new stream of patients. He discusses the enormous financial benefits of incorporating ESWT, EPAT, and EMTT.
Be sure to watch the educational and engaging webinar for more and for answers to frequently asked questions.
And for additional insights, explore our other webinars on popular topics by leading experts.

Leverage the Power of Integrating EPAT, ESWT, and EMTT into Your Continuum of Care
Empower your practice with innovative and regenerative medical technologies (EPAT, ESWT, EMTT) as it redefines patient care.
Check out our blog for 9 Best Practices for Integrating and Introducing Shockwave; it's filled with actionable tips to ease integration. If you would like to watch more of Dr. Blatz's webinars, please make sure to check out the recordings below:
The feedback is resoundingly positive from practitioners from coast to coast. The ability to up-level patient care and provide optimal outcomes is invaluable! And these complementary therapies make an excellent addition to continuums of care.
Patients increasingly seek regenerative medicine therapies by name – become their trusted resource for best-in-class care.
Partnering with CuraMedix means you'll receive the customer service and marketing support needed to help you integrate these technologies successfully and maximize ROI.
Have questions? Contact us today, and we'll connect you with one of our device experts.