When it comes to treating posterior tibial tendon dysfunction (PTTD), what's your standard approach?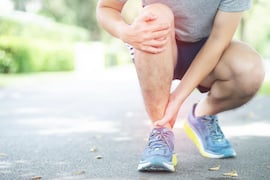 Suppose you see patients with posterior tibial tendon dysfunction. In that case, there's some must-read research: Combining Extracorporeal Pulse Activation Technology (EPAT) also known as Radial Pressure Wave (RPW) with physical therapy looks to be an effective non-surgical approach to treating this debilitating condition.
A case series study conducted at Spaulding Rehabilitation Hospital in Boston, Massachusetts, evaluated the combination of radial pressure wave therapy and a foot core progression exercise regimen on ten patients with PTTD who had failed standard conservative treatment techniques. The complete study by David Robinson, MD, Matthew Mitchkash, MD, Lindsay Wasserman, DPT, and Adam Tenforde, MD was published in The Journal of Foot and Ankle Surgery and can be reviewed in its entirety here.
What is Tibialis Posterior Tendinopathy, and how is it typically treated?
Posterior tibial tendinopathy is a common debilitating condition caused by changes in the tendon which impairs its ability to support the arch. Often, this results in flattening of the foot. Patients experience a progressive loss of foot function and weakness coupled with worsening pain and altered biomechanics.
Traditional approaches are frequently ineffective in the treatment of PTTD. The conservative techniques include:
Initial immobilization with a plantar cast or removable fracture boot.
Oral anti-inflammatories as mainstays
Traditional physical therapy (focus on tibialis posterior and ankle strength/flexibility)
Use of orthotics for stability
Corticosteroids in recalcitrant cases
Extracorporeal Pulse Activation Technology (EPAT) Therapy Plus Physical Therapy: Dual treatment for Posterior Tibial Tendon Dysfunction (PTTD)
While Extracorporeal Pulse Activation Technology (EPAT) use is supported by a growing body of evidence for treatment of multiple tendinopathies and soft tissue issues of the foot/ankle, this study is the first to focus on PTTD. Additionally, no previously published research has examined foot strengthening programs based on the 'foot core paradigm' for tibialis posterior tendinopathy.
Conceptually, the foot core describes three components to foot capacity:
passive system consisting of ligaments and connective tissue
active system of intrinsic and extrinsic muscles of the foot and ankle
proprioception
Combining these two healing modalities made for a breakthrough scientific study. At the outset, researchers hypothesized the majority of patients would achieve minimal clinically significant differences (MCID) in functional outcome measures as the result of the dual treatment.
Study participants were set up with a foot strengthening program based on the foot core principles. The foot core exercise program's main move is the short foot exercise, otherwise known as foot doming; refer to the complete study for details and images. Additional activities for foot core may include toe yoga and toe abduction/adduction.
Concurrently, the radial pressure wave treatment was provided over a minimum of 3 weekly sessions by the senior author Adam Tenforde, MD, with an additional series of the treatment given if positive but not complete clinical response. The EPAT treatment is performed with the patient prone or supine, and treatments are typically ten minutes in duration.
The study revealed that pairing EPAT/ESWT with physical therapy is a promising non-surgical approach for treating this troubling condition.
What did the clinical outcome reveal about the use of EPAT/ESWT therapy combined with physical therapy?
Radial pressure wave therapy combined with physical therapy facilitated impressive outcomes for the study participants. Clinically significant differences in the Foot & Ankle Ability measure were met in 90% of patient participants concerning activities of daily living and 80% for sport sub scores.
No adverse effects were observed during the duration of the study. The innovative dual treatment of EPAT paired with a physical therapy regimen including foot core paradigm shows encouraging possibilities for a condition commonly unresponsive to traditional therapy alone.
Notable functional outcomes after the combination of therapies support the use of the combined treatment protocol.
Is EPAT/ESWT therapy unparalleled in the treatment of every tendinopathy?
It's a matter of fact that EPAT/ESWT is today's most innovative approach to treating acute and chronic tendinopathies. Based on the research, PTTD is just one of many tendinopathy conditions that can be effectively treated with shock wave therapy.
Be sure to look at its application in treating Achilles tendinopathy. Other dual treatments also make sense in several other tendinopathies and conditions, as you'll see in the webinar The Benefits of Combining Shock Wave and Manual Therapy.
CuraMedix has recently launched a shock wave resource hub for foot and ankle specialists. There, you'll be able to explore vast amounts of research, white papers, and more. Consider it a one-stop destination for learning all the ways shock wave is revolutionizing foot and ankle care.
Have questions about how adding EPAT/ESWT to your continuum of care can be a game-changer for your practice? Contact us today, and we'll connect you with one of our shock wave experts.