Another exciting Boston Marathon is in the books!
In honor of Marathon Monday, we're spotlighting Dr. Adam Tenforde, M.D., Director of Running Medicine at Spaulding National Running Center. Dr. Tenforde recently teamed up with two other leading Boston-based doctors to discuss non-invasive ways to treat pain.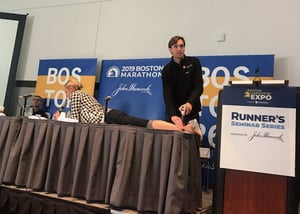 As part of the Runner's Seminar Series, Dr. Tenforde along with Ian Nurse, DC and John-Paul Hezel, MD, presented their ideas for a multidisciplinary approach to pain treatment. The presentation highlighted the medical resources that are available to runners who are both injured and non-injured.
Among those methods is EPAT (Extracorporeal Pulse Activation Technology), which is also referred to as ESWT or shock wave.
Trenni Kusinierek, sports anchor and reporter for NBC Sports Boston, served as the panel's moderator. As a dedicated runner herself, Trenni volunteered to have her Achilles tendon pain treated with EPAT by Dr. Tenforde in front of an audience of 70 participants.
While treating Trenni right on stage, Dr. Tenforde explained to the audience the advantages of EPAT and why it has become his go-to tool for treating runners and other active patients who are suffering from pain.
He touted many of EPAT's advantages including:
Non-invasive

– doesn't break the skin

No reported complications of tendon rupture in all of the published literature
Extremely safe

–

virtually

no risk
After just one five-minute treatment, Trenni exclaimed "I actually feel better!" And then, eager to follow up with more treatments, asked Dr. Tenforde, "When are you back in the office next week?"
These are the types of EPAT success stories we hear again and again – and of course we are always happy to share them!
From all of us at CuraMedix, congratulations to Dr. Tenforde and all of the runners who participated in today's Boston Marathon.
More About EPAT
Extracorporeal Pulse Activation Technology (EPAT) is today's most advanced, non-invasive technology for treating pain. EPAT is evidence-based and clinically proven. Learn more when you download our white paper, The Art of Shockwave.