One of the most interesting applications of ESWT (Extracorporeal Shock Wave Therapy) is the treatment of pseudarthrosis. In Pseudarthrosis: Treatment with Focused Shock Waves, you will learn why a growing number of orthopedists use this method as a viable alternative to surgery. Treatment is non-invasive and can be performed on an outpatient basis, which shortens patient recovery.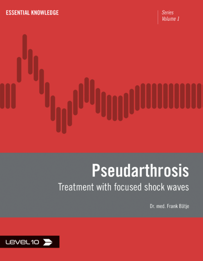 Written by the esteemed Dr. Frank Bätje, this reference guide gives you a wealth of useful information on treating pseudarthrosis with ESWT (Extracorporeal Shock Wave Therapy). Dive into the theories behind how shock waves work, and learn more about how to use this technique in your everyday practice, from preparation to application of treatment.
Explore topics that include:
Etiology and pseudarthrosis types
Review the causes of pseudarthrosis and the various types you may encounter in your practice.
Treatment options for pseudarthrosis
Read about a variety of approaches for treating pseudarthrosis, and the pros and cons of treatment with shock wave versus surgery. You'll learn about the efficacy of this treatment through a variety of research studies cited by the author.
Using shock wave for pseudarthrosis
Take a deeper look into how shock waves work to treat pseudarthrosis and explore appropriate treatment techniques for both orthopedic and trauma cases. You'll gain an understanding of how professional associations are monitoring technical advances and how various ESWT systems differ. For example, did you know that shock waves can be produced in three different ways: electromagnetically, electrohydraulically or through piezoelectric generation? Explore which is the best method and why.
Indications and contraindications
Learn when you should consider using ESWT — and when it should not be a consideration. You'll also explore potential risk factors and how to best mitigate them.
Precise target localization
Interestingly, the latest generation of urological lithotripters that use x-ray fluoroscopy to localize kidney stones and infrared application to target treatment can be used to locate the pseudarthrosis gap in long bones. However, these tools are only useful in situations where both the shoulder plane and feet of the patient are accessible for diagnosis and treatment, which usually involves significant flexibility in positioning the table and shock transmitter.
More commonly, particularly for near-surface locations such as the clavicle, ulna, radius, humerus, scaphoid bone and metacarpals, the pseudarthrosis gap is localized via sonography. Next, the patient's skin is marked to indicate where the shock waves should be applied. While less high tech, this approach has proven to be highly accurate and avoids exposing the patient to x-rays.
Through a variety of examples and diagrams, you see how the pseudarthrosis gap is indicated and shock wave is applied to precisely target the pseudarthrosis gap. You'll also learn about the number of sessions typically needed along with details about follow-up care.


To learn more, order the complete Level 10 book, Pseudarthrosis: Treatment with Focused Shock Waves today.