"With EPAT, anything is possible!" touts Dr. Sebastian Sinz from the 2019 FIS Snowboard, Freestyle & Freeski Championships
When vying for one of the coveted medals at the 2019 FIS Snowboard, Freestyle & Freeski World Championships, the last thing winter athletes want to get in the way of a successful run is pain.
To make sure that didn't happen, Sports Medicine Physician Dr. Sebastian Sinz, official medical supervisor of the German Ski Association and the owner of Sinz Holistic Sports Medicine, accompanied the German team to Park City, Utah last month.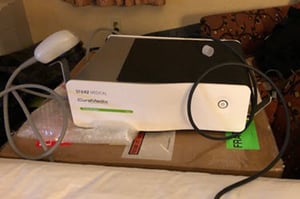 Dr. Sinz's mission: to bring EPAT (Extracorporeal Pulse Activation Technology) right to the site of the competition and offer it as a treatment option to gold-medal hopefuls who were struggling with musculoskeletal pain.
CuraMedix provided Dr. Sinz with a radial EPAT device, the OrthoPulse Ultra 100, so that he could treat the athletes during the competition – ensuring that they were able to perform at their best without risking any downtime or side effects.
Dr. Sinz explains:
"German freestyler and halfpipe athlete Nadja Flemming had been suffering from right ankle and patella problems for some weeks. Due to the hard impact of jumping and landing in the halfpipe, her tractus iliotibialis and her plantar fascia were tightened."
"I applied EPAT to her lateral muscle chain and opened the muscle gelling. After one hour of treatment, the ankle and knee pain were gone! Yes! I then applied a second treatment two days later. Nadja placed thirteenth in this slopestyle competition – typically a strong U.S. event so 13th was a huge success for a German!"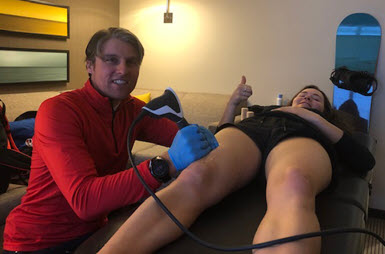 Dr. Sinz also worked with Selina Jörg, who went on to win the gold medal, and bronze medalist for parallel slalom Ramona Theresia Hofmeister. He describes their conditions and treatment as follows:
"Our 'gold girl' Selina had an operation on the fourth finger of her right hand that resulted in very bad and limited range of motion. Once treated with EPAT, the movement got better. Had the treatment been in my home office, I would have combined it with the focused shockwave as well to treat her scars."
"Ramona has shoulder problems after luxation of the right shoulder. EPAT helped treat the contraction of the three M. pectoralis muscles and M. deltoideus and M.biceps to get a centralization of the humerus head to the glenoid."
---
Dr. Sinz is grateful that EPAT has led to great outcomes for his patients and the athletes at this year's event. He is happy to offer a non-invasive treatment option that lets athletes get back to doing what they love – faster and without surgery. He recalls an incident from the Youth World Competition in 2017.
"A Nordic athlete crashed after ski jumping. He injured his ACL, meniscus and the medial ligament. After treating with radial and focussed shockwave, he could've run a 5-kilometer race 4 hours after injury and treatment. Nobody expected that! You don´t need to operate on the ACL if you know how you work with EPAT. With EPAT, anything is possible."
"All race medals with EPAT!!!"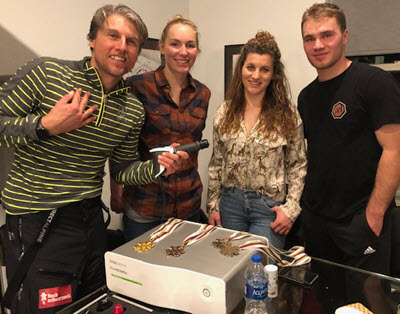 More About EPAT
Extracorporeal Pulse Activation Technology (EPAT) is today's most advanced, non-invasive technology for treating pain. EPAT is evidence-based and clinically proven. Learn more when you download our white paper, The Art of Shockwave.