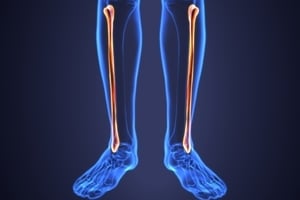 Often unresponsive to conventional therapy, delayed or nonunion of the tibia is commonly seen in orthopedic practices. Fortunately, Extracorporeal Shock Wave Therapy (ESWT) offers new hope by facilitating the healing of this challenging condition.
If you're treating patients with nonunion of the tibia, you'll want to dive into the study published in The Journal of Orthopedic Trauma, titled Extracorporeal Shock Wave Therapy for Nonunion of the Tibia. The study focuses on defining disease-specific and treatment-related factors of prognostic significance in patients undergoing shock wave therapy for tibia nonunion.
The retrospective analysis looks at 192 patients treated with ESWT at a single referral trauma center in Vienna, Austria, to determine the feasibility of using shock wave to treat tibia nonunion.
An additional study further supports ESWT in treating tibial nonunion. Read the abstract from the International Journal for the Care of the Injured, Extracorporeal Shock Wave Therapy Ameliorates Healing of Tibial Fracture Nonunion Unresponsive to Conventional Therapies, published in 2016.


What is Nonunion of the Tibia, and how common is the condition?
Nonunion of the tibia refers to a fracture that will not heal to achieve clinical stability without additional surgical or nonsurgical intervention. In the United States alone, it's estimated that 25% of the six million fractures occurring annually involve long bones – and 33% of those long bone fractures involve the tibia.
While tibial nonunion presents a significant clinical challenge – the advent of regenerative medicine technologies like EWST are now available to patients to vastly improve patient outcomes. Clinical studies support the use of ESWT and the efficacy and favorable response outcomes in treating nonunion of the tibia.

What was the study methodology?

At the outset, clinical variables included patient age, gender, primary presentation, and identification of the tibia segment. Current tibial status was established through radiological study. During the clinical assessment, patient markers included pain upon weight-bearing and pain experienced with palpation or manual manipulation.
Researchers categorized nonunion based on the original date of the fracture injury. Nonunion was defined as a fracture that:
Has failed to demonstrate cortical continuity on three of four cortices despite operative and non-operative interventions for 6 months or more





No radiographic changes for 3 consecutive months





The inability of the patient to bear weight, pain on palpation, or motion at the fracture site 6 months post-trauma
Treatment Using Extracorporeal Shock Wave Therapy
Most study participants had one or more orthopedic operations and/or adequate mobilization before shock wave treatment began. Eighty percent of patients had only one Extracorporeal Shock Wave Therapy treatment, fifteen percent had two ESWT treatments, under 5% had three treatments, and one patient had four treatments.
Initially, the application intensity of ESWT was 12,000 pulses, with a subsequent decrease to 4000 pulses after reviewing outcomes at various pulse intensities. And a voltage of 26 to 28 kV was used for all treatments.
What did the clinical outcome reveal about the use of ESWT for nonunion of the tibia?
The primary outcome was fracture healing, which was indicated by the patient's ability to bear full weight on the affected limb and the absence of pain at the fracture site upon manual bending or compression. Finally, radiographically confirmed cortical continuity on three of four cortices with increasing bony bridging at the original fracture point was apparent.
In summary, this study, the largest of its kind to date, focused on the efficacy of treating tibial nonunion with Extracorporeal Shock Wave Therapy was a tremendous success in patient healing. Remarkably, these optimal outcomes were achieved in most cases with a single ESWT treatment. Perhaps the most promising result in the study involved atrophic nonunion (previously known to not heal from stabilization alone); the study results are indicative of the powerful treatment effect of shock wave in this subset of patients.
This report adds to the ever-growing body of literature and evidence highlighting the healing power of regenerative medicine technologies like ESWT are revolutionizing medicine with each passing day. The study suggests that the transformative energy delivered via shock wave therapy creates direct biological effects which enhance tissue and bone repair.
These days, ESWT is among the most innovative approaches being used to treat a variety of musculoskeletal disorders. Tibial nonunion is just one of many conditions that can be effectively treated with shock wave therapy. Be sure to examine numerous applications by reading the Level One study: ESWT and Healing of Musculoskeletal Disorders.
CuraMedix offers many resources to take a deep clinical dive into scientific research, supporting shock wave to improve patient outcomes. Explore clinical research here.
Have questions about how adding EPAT/ESWT to your continuum of care can be a game-changer for your practice? Contact us today, and we'll connect you with one of our shock wave experts.