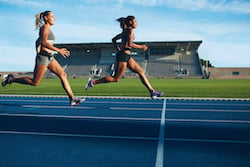 What's your current approach to treating in-season athletes?
In professional sports organizations and athletic programs of all levels, keeping in-season athletes in top form is of utmost importance. An athlete's ability to train with intensity and perform optimally in fiercely competitive environments is imperative. The challenges of back-to-back competitions allow for little recovery time in between and can take their toll on even the most dedicated athletes.
Sports related injuries, including muscle strains, tendinopathies, bone injuries and more, can sideline in-season athletes. Keeping those recovery times to a minimum is a top priority.


What is ESWT?
Extracorporeal Shockwave Therapy (ESWT) energetically triggers a cascade of biological effects at cellular, tissue, and organ levels. Treatment with shockwaves facilitates regeneration and awakens the body's system for healing. Benefits include:
Increased collagen synthesis
Cellular proliferation
Wound healing
Pain reduction
Neovascularization
Reduced inflammation
There are two types of Extracorporeal Shockwave Therapy (ESWT):
Focused shockwave penetrates deep into the tissue, allowing practitioners to deliver focused power to targeted depths. This non-invasive approach with shockwaves is used to treat chronic tendinopathies and soft tissue to reduce pain and accelerate healing. In medical circles and athletics, it is hailed as an evidence-based technology and an effective alternative to surgery.
Radial pressure wave, also known as EPAT(R) (a proprietary shockwave), is well suited for patients and athletes suffering from acute and chronic musculoskeletal and connective tissue disorders. Radial pressure wave features acoustic pressure waves that treat patients in a non-invasive manner and requires no downtime. Due to the wave structure (lower speeds and peak pressure), it is well suited for broader, superficial structures.
Both forms of Extracorporeal Shockwave Therapy (ESWT) are acclaimed among today's most innovative medical technologies as they revolutionize treatment possibilities. Shockwave is evidence-based, accelerates healing, treats the root cause of pain, and dramatically accelerates recovery time which is especially advantageous in treating athletes.
Explore the recent study "Utilizing Extracorporeal Shockwave Therapy for in-Season Athletes" by Adam S Tenforde MD et al., published in Healthcare. As the study points out, shockwave therapy has proven effective in treating numerous common athletic injuries, including plantar fasciitis, Achilles tendinopathy, medial tibial stress syndrome, proximal hamstring tendinopathy, and more.


Evidence Supporting Use of ESWT for In-Season Athletes
With a favorable safety profile and accelerated return to play, recent studies suggest the feasibility of encouraging the utilization of ESWT in the care of in-season athletes.
Muscle injury: research shows ESWT effectively increases muscular elasticity, muscular tone, strength, and more in healthy athletes after three treatments with ESWT during a 30-day period. This is indicative of enhanced muscular recovery. Additionally, ESWT was found to decrease pain, allowing for better movement.
Chronic injuries: the potential for accelerated return to play following the use of ESWT to treat medial tibial stress syndrome and bone trauma. A prospective study demonstrated that accelerated recovery time was seen due to the utilization of focused shockwave to treat medial stress syndrome. A randomized controlled trial investigated European football players suffering from bone edema and osteitis pubis. Athletes were able to return to play significantly sooner as a result of shockwave treatment.


Why Choose ESWT Over Alternative Injection Treatments?
While corticosteroids offer rapid relief, they come with a plethora of potential complications, including increased risk of infection, atrophy, pain, rupture of tendon or tissue, bleeding, and so on. On the flip side, ESWT allows athletes to stay active as tolerated (as dictated by the injury and the patient). Most athletes can continue with training sessions while undergoing ESWT treatments. ESWT is well tolerated by elite athletes and weekend warriors alike.
PRP (Platelet Rich Plasma) is commonly utilized in sports medicine settings and can stimulate healing and reduce pain without toxicity within the body. Despite the positives, studies reveal that weight-bearing limitations and reduced activity may be necessary post-treatment, and restrictions may last from 7 days to 6 weeks. Again, ESWT allows for a more rapid return to sport and ongoing training with little to no restriction.


Clinical Applications and Conclusions
The upside of shockwave therapy in athletics is clear and well-documented.
ESWT is heralded as a game-changing, innovative technology that allows athletes to stay in the game and get off the sidelines. Athletes are born to move, and cutting the return to sports timeline is priceless. Shockwave is favored for in-season athletes following a load management protocol for facilitated healing and a supportive pathway to more advanced procedures in the off-season (PRP and surgery).
By fostering accelerated recovery from athletic injury, ESWT protects the athlete's health and club resources.


Leverage the Energy of Shockwave to Accelerate Healing of In-Season Athletes
In addition to treating in-season athletes optimally, ESWT is equally valuable in treating armchair quarterbacks, weekend warriors, and athletes at all levels.
Expanding treatments offered in your practice can have multiple positive implications for patients and practice. Be the go-to provider for regenerative therapies in your region. Differentiate your practice from others and stand out.
Helping patients get better faster is especially rewarding. Discover all you can about ESWT and other regenerative solutions from CuraMedix – it makes integrating these innovative technologies into your practice a breeze.
Need more information on the impact of adding EPAT/ESWT/EMTT to your continuum of care? We're here to answer any questions and are happy to connect you with one of our team experts — Contact us today!