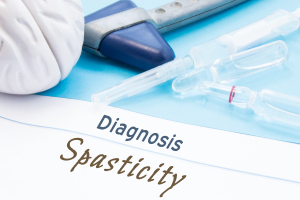 A Systematic Review Featuring Prof. Dr. Karsten Knobloch
In 1994, the positive clinical observations in treating knee osteoarthritis with ESWT included increased muscle elasticity and tone with decreased flexion pain. It became evident that applying ESWT to spastic contractures would prove equally beneficial.



Neurology has used shockwave therapy to treat children with cerebral palsy since 1996 using very low energy levels and a focused device.

A team of researchers, including Prof. Dr. Karsten Knobloch, Dr. Henning Lohse-Busch, et al., conducted a recent study on ESWT for spasticity. To explore the study in its entirety, read the article titled "Very Low and Low-energetic Extracorporeal Shock Wave Treatment of Spasticity in Children and Adults – A Systematic Review" published in The Journal of Regenerative Science.

The objective of the scientific review is to thoroughly examine published studies on ESWT (radial or focused) for spasticity treatment in children and adults. Successful treatment parameters are analyzed and expounded upon.

The Challenges of Spasticity
Spasticity treatment is needed for patients with cerebral palsy, epicondylitis, multiple sclerosis, and stroke survivors. Spasticity contributes to complications including pain, altered posture, deformities, and osteoporosis, all of which impact the quality of life for patients.
Stretch reflex impairment coupled with changes in muscle fibers and tendons play a role in the development of spasticity in children and adults. Traditional treatment protocols for spasticity include physical therapy, prescription oral anti-spasticity medications, and nerve blocks, to name a few. Many of the treatments mentioned above have unfortunate side effects. The importance of evidence-based ESWT, a non-invasive treatment option, cannot be understated.


Exploring Inclusion Criteria for the Systematic Review
The search methodology was based on the accepted protocol for systematic review. The review included:
1086 patients from 31 randomized-controlled trials or cohort studies
300 children were studied in 7 studies
The relevancy of each study was carefully considered
Exclusion of case studies or meta-analysis
Patient characteristics and shockwave parameters underwent detailed analysis


ESWT a Powerful Treatment in Spasticity Among Children and Adults
The systematic review aimed to address the experience and outcomes of treating children and adults with spasticity with ESWT (focused and radial). The following notable observations were made:
Substantial evidence supports the use of shockwave for spasticity treatment of children and adults.
Both radial and focused ESWT improve function and significantly reduce spasticity.
Neither technology (radial or focused) was found superior to the other due to a lack of comparative trials at the time of the review.


The Importance of Low/Very Low Energetic ESWT Treatment Parameters
Among the spasticity trials reviewed, substantially low energy levels were utilized across the board. Specifically, levels ranged from very low-energetic of 0.01 – 0.05 mJ/mm2 or <1bar to low energetic in the range of 0.07 -0.1 mJ/mm2 or 1 – 2 bars when using either focused or radial ESWT.
The intensity of the energy transfer is lower when compared to levels traditionally used for kidney stone resolution or bone treatment (>.25 mJ/mm2). Low energy ESWT is beneficial for spasticity, neovascularization, tissue regeneration, and reducing inflammation.


Conclusions on Shockwave Treatment for Spasticity
The authors concluded that both radial and focused (very low to low energetic) shockwave is efficacious and reduces spasticity in children and adults. No adverse effects were detected or noted in any of the studies reviewed related to Extracorporeal shockwave therapy.
Shockwave treatment consistently produced impressive clinical outcomes in the patient population reviewed, offering new hope to patients and providing new therapies to medical professionals. There is now a protocol to address spasticity effectively and efficiently without troublesome side effects, thanks to innovative ESWT.


Redefine Patient Care While Optimizing Practice Revenue Growth
As shockwave treatment and technology evolve, regenerative medicine's potential appears limitless. Nowadays, patients actively pursue and opt for more natural and non-invasive treatment options; it's critical to answer the rising demand for game-changing technologies and protocols. Shockwave and EMTT address the root cause of pain and dysfunction, accelerate the healing process, and improve outcomes.
As interest increases, evidence continues to pour in on the effectiveness of regenerative technologies, including EPAT, ESWT, and EMTT. Investing in evidence-based technologies is a proven way to drive practice revenue growth while simultaneously improving patient care.
Life-changing innovative treatments have the power to profoundly impact patient lives and revolutionize your practice. Experience this winning scenario in your practice. For additional insights, read: Why are STORZ Medical Shockwave Devices Considered the Gold Standard?
Investing in the most innovative products, technology and science ensures your ability to deliver exceptional patient outcomes and boost practice revenue. CuraMedix is passionate about partnering with medical professionals and providing unrivaled marketing support and customer service.
Have questions you'd like to ask? We're here to answer any questions and will gladly connect you with one of our shock wave experts — contact us today!