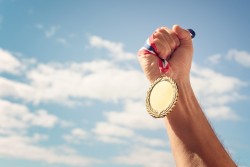 When it comes time to purchase the 'right' medical shockwave device, the task can seem overwhelming at first glance. Add to that the overwhelm of discovering that there are a multitude of manufacturers who sell shockwave devices, though the quality varies significantly from one manufacturer to the next.
When investing in a shockwave therapy device, you can trust STORZ Medical as the market leader and a name known for precision and excellence. It's why discerning medical professionals worldwide identify STORZ MEDICAL as the market leader in shockwave and regenerative technologies.
The History of STORZ Medical
It all began in 1945 when Dr. Karl Storz founded the KARL STORZ Group in Southern Germany. This innovative organization would influence endoscopy and shockwave therapy in the years ahead.
In 1987 STORZ Medical was founded in Switzerland and became known as the early pioneers of shockwave therapy. A patent received in 1988 serves as the foundation of all of its focused shockwave systems to date. Known for establishing and innovating Extracorporeal Shockwave Therapy (ESWT), they were additionally sure to get patent protection.
STORZ Medical today is known globally as the unrivaled market leader in shockwave technology. Their non-invasive solutions are used in a growing number of fields, including urology, cardiology, neurology, aesthetics, dermatology, and orthopedic pain treatment.
Their preeminent research, premium quality devices, and innovative technologies, coupled with their well-earned reputation, make them the world-renowned authorities in the field of shockwave
STORZ Medical Shockwave Devices
STORZ Medical manufactures radial pressure wave and focused shockwave devices and now EMTT devices.
Extracorporeal Pulse Activation Treatment (EPAT )
The OrthoPulse Series, also referred to as the D-ACTOR series, are radial pressure wave devices which have been used extensively in orthopedics for over thirty years. Radial pressure waves are able to target shallow yet wide treatment areas. This technology is particularly well suited to treating plantar fasciitis, myofascial pain, and chronic tendinopathies.
Healthcare professionals use EPAT to successfully treat acute and chronic musculoskeletal pain and/or pain that significantly impairs mobility or quality of life. It is particularly well suited to the treatment of the following areas:
Foot and ankle
Lower extremity
Upper extremity
Back and chest
Shoulder
Neck
Myofascial trigger points
Extracorporeal Shockwave Therapy (ESWT)
The DuoLith series includes a range of focused shockwave devices. Compared to radial pressure waves, Focused shockwaves deliver a higher energy density and faster impulse. In this way, Focused shockwaves can target deeper tissues more precisely, enabling practitioners to reach specific areas and providing all of its energy within the targeted tissue. Conditions like localized pain points, chronic tendinopathies, bone stress injuries, non-unions, and deep trigger points are best treated with focused shockwaves.
Radial Pressure Wave and Focused Shockwave are regularly used in the following specialties:
Orthopedics
Sports Medicine
Pain Management & Rehabilitation
Podiatry
Wound Healing
Aesthetic Medicine
Urology
Neurology
Cardiology
Vascular
Dentistry
Veterinary Medicine
Unlike many others out there, STORZ MEDICAL shockwave devices are backed by extensive scientific studies, including Level One studies, which support their efficacy. When only the best will do, look to STORZ Medical with confidence.
STORZ Medical Value Proposition
Leading the Way in Shockwave
As it stands, STORZ

Medical

has sold in excess of 50,000 devices worldwide and holds over 200 design patents and multiple design awards. They are the unrivaled leaders in shockwave research and related technological advancements.




Safety, Quality, Precision
STORZ

Medical

is synonymous with safety, quality, and precision. Each device is held to exacting standards and has been

inspected and tested for quality and effectiveness and ensure patient safety. All devices are designed to ensure that a practitioner delivers the right frequency of shockwaves for a given condition.




Innovation Drives Development


STORZ Medical is forever at the forefront of innovative design and development – always stay tuned for the latest developments in shockwave.
Why CuraMedix Should Be the Source for Your STORZ Medical Devices
Selecting the 'right' vendor partner is equally important as choosing the best medical technologies for your practice.
When it comes down to it, the ROI of your chosen medical device will be impacted by who you choose to partner with which will ultimately influence your success in introducing it into your practice and to your patients.
Why?
Ideally, you'll want a trusted partner with years of experience that is there for you both pre-and post-purchase by offering ongoing support to get you the most return on your investment. You'll be pleased to know that CuraMedix does precisely that.
We're committed to helping medical professionals, like you, integrate new technology into your practice and help you optimize usage to its fullest potential. CuraMedix is the leading US distributor of the entire suite of STORZ Medical devices and is trusted for exceptional customer service, unmatched marketing guidance, as well as educational and technical support.
The complete offering includes Extracorporeal Pulse Activation Technology (EPAT ), Extracorporeal Shockwave Therapy (ESWT), and Extracorporeal Magnetotransduction Therapy (EMTT) —all are innovative, evidence-based technology platforms used to stimulate tissue repair and regeneration.
Non-invasive, regenerative solutions from CuraMedix work on their own or in tandem with one another to increase the efficacy of clinical procedures.
If you're interested in incorporating these regenerative technologies into your practice to offer exceptional patient care and treatment, we'd be honored to partner with you to help you take your practice to the next level.
Ready to chat? Our team of shockwave and EMTT experts are here to help! Please get in touch with us to get your questions answered and find a suitable device for your practice.