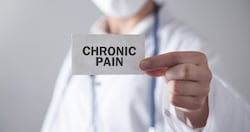 There is perhaps nothing more powerful than the sharing of our practitioners' unique experiences of incorporating regenerative technologies into their plan of care for winning outcomes. Learning from peers about successful implementation and integration is both educational and inspirational.
This time around, you'll learn from an engaging presenter with extensive training, Dr. Keith Roed, in our latest webinar from the Institute for Tissue Regeneration & Repair. CuraMedix proudly sponsors these educational webinars and is committed to helping you integrate innovative, evidence-based, non-surgical tools and technologies into your continuum of care.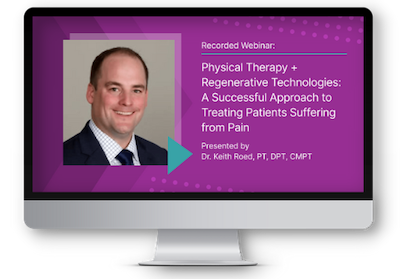 Hear from Dr. Roed for insights on how he successfully integrated regenerative medicine technologies, including Extracorporeal Magnetotransduction Therapy (EMTT® ) and EPAT® (Radial Pressure Wave), for optimal patient outcomes. View the webinar in its entirety, "Physical Therapy + Regenerative Technologies: A Successful Approach to Treating Patients Suffering from Pain."
Here's a preview of what you'll learn.

Overcoming Acute and Chronic Pain
Dr. Roed and his team at Impact Physical Therapy's award-winning practices in Iowa are dedicated to helping people overcome pain and redefine the impossible (even if they have failed treatments elsewhere). He has discovered that EMTT and EPAT are ideally suited for his synergistic approach to treatment.
His findings:
EMTT and EPAT are change agents rather than mere modality machines
Combination therapy is efficacious: EMTT + EPAT + other modalities and exercise/movement
Regenerative therapies are instrumental in the treatment of complex musculoskeletal cases and chronic pain
Enables practitioners to better help patients to recover faster
EMTT and radial pressure wave are immensely useful in complex cases, providing new hope to patients


Three Primary Advantages of EMTT + EPAT
While there is a multitude of advantages offered by regenerative technologies, Dr. Roed focuses on these three:
Time: Patients get out of pain faster, noninvasively, and you can accelerate their healing stages
Results: High patient satisfaction rate of 82% and higher!
Comprehensive Treatment: The ability to address multiple dynamics in one setting
As an increasing number of people are seeking more holistic approaches to medical treatment, these advantages become all the more critical. A large percentage of patients are looking to avoid unnecessary prescriptions, injections, and surgical interventions, and innovative technologies like EMTT and EPAT offer a new pathway to healing.
EMTT and EPAT are significant game-changers for athletes! Regenerative technologies treat the issue's root cause and considerably shorten rehab times. And getting athletes on the field faster and stronger is a winning proposition.


EMTT and EPAT: Clinical Applications and Synergistic Approach
EMTT and EPAT are standouts on their own, but leveraging the power of both up-levels results for positive patient outcomes. Practitioners, like Dr. Roed, recognize EPAT and EMTT as the most valuable players in the treatment toolbox. Both conservative, non-invasive modalities enhance the likelihood of best-case scenario outcomes.
A synergistic approach considerably accelerates healing and tissue remodeling via the powerhouse combination therapy offered by pairing EPAT and EMTT. The two treatments are highly complementary, as one amplifies and influences the other, producing remarkable results.
Firstly, EMTT sets the stage, targets the regional cell area, and essentially supercharges and resets things at a cellular level.
Secondly, EPAT stimulates the prepped cells, which means there's a higher affinity for positive change.
By making regeneration possible at the cellular level, you ignite and restore the normal processes within the body. With this dual treatment, you'll enhance Axoplasmic Flow and trophic nutrition to heal degenerated tendons and dysfunctions at a deeper level than previously conceivable. It's no wonder that these innovative technologies spark excitement among medical practitioners. Possibilities abound for revolutionizing patient care and practice growth simultaneously.
Additionally, further enhanced effects can result from combining EMTT/EPAT with other modalities like cupping and Astym/IASTM.
Dr. Roed's preferred treatment protocol includes the following:
EMTT first
EPAT second
Other complementary manual therapy, if needed
Exercise to encourage movement, build strength, and develop stability


Incorporating a Subscription Model into Your Practice
If you've never explored adding a subscription model to your practice, it may be time to consider it. Here's how they approach it at Dr. Roed's clinics with great success:
Subscription model allows you to bundle 'applications'
Allows patients to have the freedom to use applications as they see fit
Offers savings to patients who purchase package deals (which you create and customize)
Savings offer an increase in perceived value which leads patients to select larger packages
Option to share packages with family and friends (increasing your net reach)
Helps build your referral base and increases cash flow


Help Patients Heal FASTER by Integrating EMTT and EPAT into Your Plan of Care
Whether you are treating pain or musculoskeletal conditions, all patients want to heal faster, and EMTT and EPAT make that possible. As highly complementary therapies, they are an excellent addition to your clinic that should be considered.
Provide the best patient care and optimal patient outcomes to those looking for regenerative therapies, allowing them to avoid invasive procedures and extended recovery times.
Lead the way in innovative protocols and broaden your treatment horizons with the power of regenerative technologies and products from CuraMedix.
Have questions? Contact us today, and we'll connect you with one of our device experts.