Insights from Award-Winning Research Presented at this Year's APMA Conference
For physicians who rely on shock wave as a treatment option for their patients—and for physicians who are still considering integrating it into their practice—it's important to continually share critical findings that help other medical professionals stay focused on patient care and satisfaction.
That's why we're excited to share key research that was recently presented at this year's APMA (American Podiatric Medical Association) National Meeting and Symposium. The research poster, which tied for first place in the "Large Case Study" category, reveals key findings about the efficacy of radial shock wave therapy (RSWT) and its correlation to patient satisfaction among patients with leg, foot and ankle conditions.
The Background
Dr. Gary M. Gordon, DPM, had been utilizing shock wave therapy for many years in his practice successfully. So in 2015, Dr. Gordon along with Dr. Ira Myers and resident Dr. Jessica Inthavongxay decided to do a study on patients who had previously received shock wave therapy.
Along with Dr. Alicia Canzanese, who helped organize the data and results for publication, and with the help of another resident, Dr. Farhad Foroudi, the team was accepted to present the data and findings as a research poster at the APMA 2018 Annual Scientific Meeting (The National) in Washington, D.C. in July. This national conference hosts thousands of foot and ankle physicians, assistants, and related professionals that gather for four days of education, networking, and community-building.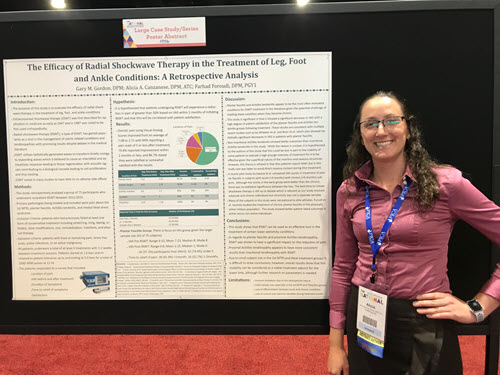 Dr. Alicia Canzanese attended the APMA meeting to represent the research poster,
which was posted for the duration of the meeting, and to answer conference attendees' questions.
The Study
The purpose of the study was to evaluate the efficacy of radial shockwave therapy in the treatment of leg, foot and ankle conditions. It was a survey-based retrospective analysis on 75 participants.
It was hypothesized that patients undergoing RSWT would experience a reduction in pain of greater than 50 percent based on Visual Analog Scores (VAS) within two months of initiating RSWT and that this would be correlated with patient satisfaction.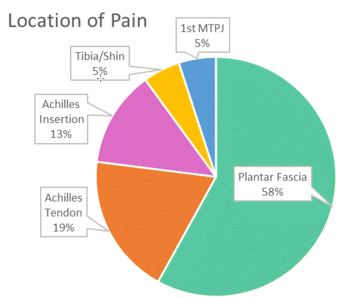 Pain was reported using Visual Analog Scores that were
based on the location of the pain before and after treatment.
The Visual Analog Scores recorded factors including:
Location of the pain

Average pain before treatment

Average pain after treatment

Percent

satisfied

,

somewhat satisfied

and

not satisfied
The Study's Results, Findings – and Plans for the Future
Results, along with key conclusions, are reported in the research poster that can be viewed here. The poster visually presents the full details of the study including the methods, hypothesis, inclusions and exclusions, and discussion points.
The team's plan moving forward is to expand upon the poster and submit it to a journal for publication, as an article, as well as use this as a pilot to help design a future study looking at a greater subject pool and looking into more variables, such as chronicity and treatment parameters.
Questions or Comments for Our Team?
For the CuraMedix team, these findings are consistent with much of the research to date about evidence-based EPAT (Extracorporeal Pulse Activation Technology, also referred to as shock wave). See some of that clinical evidence here.
If you would like to connect with us on how EPAT can help your practice improve patient satisfaction and create better economic outcomes, then let's talk! We'd love to hear from you.