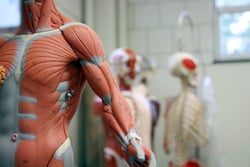 Extracorporeal Shock Wave Therapy (ESWT) is recognized worldwide as a safe and effective treatment modality for many disorders of the musculoskeletal system. And while many studies examine the mechanisms of action (both molecular and cellular) of ESWT, until now, there has not been an all-encompassing study. A recent study published in Biomedicines 2022, Issue 10 is a systematic review that explores the effects of exposure of musculoskeletal tissue to extracorporeal shock waves as reported in the literature reviewed.
For a closer look at the published study, refer to "The Effects of the Exposure of Musculoskeletal Tissue to Extracorporeal Shock Waves." The purpose of the study is to provide clinicians, researchers, and other medical professionals with a comprehensive overview of what is known today about the effects and exposure of musculoskeletal tissue to extracorporeal shock waves.
The insights gained shed light on this important, non-invasive modality redefining medicine today.


Materials and Methods of the Systematic Review
Researchers reviewed PubMed and Web of Science articles, meeting their determined criteria from the databases' inception through September 30, 2021. In all, 181 studies were found and broken down by classification. The type of musculoskeletal tissue falls into one of 3 categories:
Bone and cartilage
Connective tissue
Muscle and nerve tissue
Within the study, the literature review strategy is summarized through a flowchart.


Effects of ESWT on Bone and Cartilage Tissue
In all, 100 studies within the systematic review addressed shock wave effect on bone and cartilage tissue. Fifty-one percent of the studies were published within the last ten years. The vast majority, 85%, applied focused shock wave, another 11% applied radial shockwave, and 2% were combination therapy (focused + radial); the remaining 2% did not specify the type of shock wave utilized.
The studies reviewed reveal positive impacts and effects on bone and cartilage tissue, including:
Increased mineral apposition rates, trabecular bone volume, number, and thickness.
Increased bone/tissue volumes.
Increased bone strength, bone mineral density, trabecular thickness, and bone /tissue volumes.
Increased osteoblastic activity and improved pain score.
These are just a handful of positive findings; explore the study in its entirety for a thorough review of positive outcomes from ESWT.


Effects of ESWT on Connective Tissue
Regarding connective tissue, researchers conducting the systematic review discovered 39 studies addressing the effects of shock waves.
46% of the studies were published between 2012 and 2021.
77% applied focused shock wave.
23% applied radial shock wave.
61% of the studies described animal experiments.
Very different effects of ESWT were noted and reviewed. In the case of connective tissue, the following results were among those noted:
Decreased epidural fibrosis.
Higher multiplication of collagen fibers.
Faster organization of muscle fibers and vascularization by treatment with radial shockwaves.
New capillary and muscularized vessels, newly appeared myofibroblasts.
Refer to Table 2 in the study for detailed findings of outcomes.


Effects of ESWT on Muscle and Nerve Tissue
Finally, the systematic review examines the impacts of shock waves on muscle and nerve tissue by reviewing 42 studies, all published between 1998 and 2021, with the majority, 60%, conducted over the past ten years. The studies examined included the use of focused shock waves, radial pressure waves, and combination therapy (radial and focused).
Here's a snapshot of some of the findings reviewed by researchers:
Enhanced amplitude and latency of sensory nerve action potentials.
Improved BBB locomotor score.
Increased muscular blood flow.
Decreased motor nerve conduction velocity.
Decreased sensory nerve conduction velocity.


10 Key Takeaways from the Study
In conclusion, the systematic review's authors encapsulated findings by listing ten key takeaways from the study.
Compared to other treatment modalities, the clinical benefit of Extracorporeal Shock Wave Therapy does not appear to be related to a single mechanism of action.

Different types of tissue respond differently to the same mechanical stimulus.

Even though a mechanism of action of ESWT may be described in a study does not guarantee that this mechanism was relevant to the reported clinical effect.

Focused and radial shock wave therapy seem to act similarly.

ESWT stimulates progenitor and differential cells and has a favorable impact on pathologies of bone and cartilage.

ESWT appears to mimic the effect of capsaicin by reducing substance-P concentration.

Extracorporeal Shock Wave Therapy imitates specific mechanisms of action of neural therapy.

Shock wave appears to mimic the effects of Botulinum toxin A injection by destroying endplates in the neuromuscular junction.

ESWT is found to imitate certain mechanisms of manual therapy treatments.

There is no substitute for clinical research to determine the optimal intensity, treatment schedule, and frequency of ESWT treatments based on the diagnosed condition.


Shock Wave for Better Patient Care and Practice ROI
The body of evidence supporting the benefits of shock waves continues to grow. If exceptional patient outcomes are meaningful to you and you're interested in the possibility of adding shock wave to your continuum of care, review additional resources from CuraMedix. You'll find many informative articles, webinars, and more resources.
The more you discover about EPAT, ESWT, and other regenerative solutions from CuraMedix, the easier it will be to introduce and integrate the technology into your practice.
Have questions? Contact us today, and we'll connect you with one of our shock wave experts.