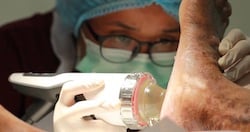 Introducing our all-in-one platform dedicated to wound care was created with discerning medical professionals in mind. For physicians and medical providers intrigued by the potential healing possibilities and advantages of using Extracorporeal Shockwave Therapy (ESWT) in treating acute and chronic wounds, burns, and scars, this hub gives you access to all you need to know on the topic.
From tackling non-healing wounds to diabetic and non-diabetic ulcers, gangrene, skin ulcers, burns, and more, this valuable collection of information connects you to clinical evidence and valuable resources, accessible at any time.
Wounds of all types can be particularly stubborn and relentless, causing tremendous suffering for patients. All too often, wounds are resistant to traditional therapies. ESWT is a game-changing approach – worthy of a dedicated platform hub. You can expect to gain invaluable insights into the transformative power of Extracorporeal Shockwave Therapy (ESWT) in treating troublesome wounds, scars, and burns.


Accelerate Wound Healing with ESWT
Look to focused shockwave therapy for the treatment of chronic wounds, accelerated healing of burns and open wounds, and reduction and improvement of lymphedema.
Evidence-Based ESWT:
Stimulates cell permeability
Improves blood circulation
Builds vascularized tissue
Releases growth factors (VEGF)
Enhances cell regeneration and activates stem cells
Accelerates wound closure
Provides an antibacterial and anti-inflammatory effect
Allow our Wound Healing Resource Hub to serve as your compass, guiding you through the intricacies of ESWT and its therapeutic applications. Whether you are a seasoned medical practitioner or a newcomer to the field of wound management, this resource offers a wealth of knowledge and resources to revisit time and again.


Understanding The Technology Behind ESWT
Delve into the science behind this innovative technology, Extracorporeal Shockwave Therapy. Discover its mechanism, advantages, and how to integrate this technology into your continuum of care. We uncover the technical specifics, providing you with a comprehensive understanding of how this innovative technology can revolutionize your practice and transform the lives of your patients.
ESWT has emerged as a powerhouse in wound healing, offering unrivaled therapeutic efficacy in non-healing wounds, diabetic gangrene, ulcers, and skin burns. The non-invasive approach and ability to stimulate tissue regeneration have expanded the horizons of treatment possibilities. By harnessing the power of shockwave therapy, ESWT successfully accelerates the healing process, often where other methodologies have fallen short.


Access to ESWT Research and Reports
Healthcare professionals value and understand the significance of evidence-based medicine – because it can be entirely relied upon. Shockwave therapy's success is backed by a robust body of evidence and clinical data. The Wound Healing Resource Hub provides easy access to the clinical insights that matter most, empowering you with the knowledge to make informed decisions in offering the best-in-class care to your patients.
Evidence is considered the cornerstone of informed decision-making for leading physicians and medical practitioners. Take a deep scientific dive into a vast collection of clinical reports, case studies, and condition-specific research collected from respected medical journals and publications. The scientific foundation of ESWT is at your fingertips whenever you need it to make informed choices in patient care.


Stay Abreast of the Latest News and Articles
Our News and Articles section is a growing curated collection of articles and research highlighting breakthroughs and clinical efforts of medical professionals like yourself who have successfully incorporated ESWT into their practices. Explore recent articles that showcase real-life success stories, pioneering approaches, and regenerative interventions in wound care. Join a community of like-minded innovators and visionaries who are redefining the possibilities of wound care.
Shockwave therapy facilitates tissue regeneration and is efficacious in treating many cutaneous pathologies, including ulcers (neuropathic and diabetic), bed/pressure sores, wounds (post-surgical and traumatic), skin burns, skin flaps and grafts, and more. Read this article for wound insights today; check out How Shockwave is Revolutionizing Wound Care Treatment.
At CuraMedix, the commitment to advance patient care and practice growth through knowledge, innovation, and collaboration is at the heart of our mission. ESWT represents a previously unimaginable approach to wound care, and the Wound Healing Resource Hub is your pathway to unlocking the regenerative regenerative power of shockwave. We invite you to engage with our resources, learn from the wisdom of experts, and take a step towards revolutionizing your practice.
As you explore our comprehensive resources, consider these compelling reasons to rely on ESWT for wound care treatment.
Accelerated healing timelines
Non-invasive approach
Effective pain relief
Evidence-based technology
Optimal wound healing outcomes
Improved quality of life for patients


Revolutionize Your Practice with ESWT
Exploring the abundant resources within our hub may pique your interest enough to take the next step toward incorporating ESWT into your practice. And we're here to support you every step of the way.
To tap into the advantages of incorporating ESWT into your practice or to connect with our team of experts, simply contact us today. We're excited to collaborate with you as you embark on your journey toward revolutionizing wound care and delivering optimal healthcare outcomes to your patients.
Finally, consider the CuraMedix Wound Healing Resource Hub your gateway to a world of knowledge, innovation, and healing. We'll partner with you to ignite patient hope, transform lives, and elevate healthcare standards. Welcome to the future of wound healing!