Regenerative Technologies Spur Patient Success, Practice Differentiation, and Business Growth
CuraMedix recently attended and presented at a Mastermind Event hosted by Paul Gough, one of the world's leading business coaches. He advises a community of leading Physical Therapists helping them to set themselves apart from others in the field, improve patient outcomes, and increase practice revenue.
An Amazon best-selling author, Paul quit his job in professional soccer in the U.K. at age 26 to start his clinic. He has successfully scaled Paul Gough Physio Rooms from one to four locations in England and from zero to $1m in cash-pay revenue in a country where healthcare is free.
Because of the shared interests in focusing on what's in the best interest of both patients and practitioners, this partnership is a natural fit. The game-changing technologies offered by CuraMedix can help medical professionals in multiple disciplines to get patients better faster while also achieving practice growth.
Shock wave and EMTT equip healthcare practitioners with the tools needed to deliver best-in-class outcomes for patients and practice. More and more, patients seek these regenerative therapies by name to avoid surgery and get back to the activities they love.


Getting to Root Cause of Pain to Improve Patient Outcomes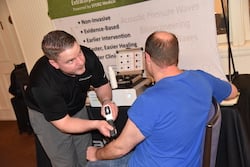 Having access to technology and treatments that will allow you to address the root cause of pain — not just the symptoms — revolutionizes patient care.
ESWT, EPAT, and EMTT treat the source of pain at its root, triggering regenerative healing effects within the body, bringing about accelerated healing processes that awaken the body's natural capacity for recovery.
Shock wave and EMTT help treat patients who suffer from overuse or soft tissue injuries and are a proven non-invasive alternative to traditional treatment methods, including surgery.
Acclaimed regenerative medicine technologies like ESWT, EPAT, and EMTT are being used successfully in many specialties, including orthopedics, sports medicine, physical therapy, pain management, rehabilitation, podiatry, wound care, aesthetic, urology, neurology, cardiology, vascular, and more.


Shock Wave and EMTT Work Well in Tandem With Other Treatments
Shock wave therapy, often referred to as radial pressure wave (EPAT) and focused shock wave (ESWT), along with Extracorporeal Magnetotransduction Therapy (EMTT), are today's most innovative approaches to treating acute and chronic musculoskeletal pain and connective tissue disorders. These two technologies are backed by evidence and work in tandem with a range of other regenerative solutions for exceptional outcomes. Often, a tandem approach to treatment is favored and produces multiplied benefits for both treatments. For example, shock wave can be paired with and enhanced by Extracorporeal Magnetotransduction Therapy (EMTT) and other therapies, including Platelet-Rich Plasma (PRP).
Check out the video as Brendan Fletcher of CuraMedix discusses shock wave and the ease of pairing it with other regenerative treatments. By bringing about enhanced recovery for the patient, they can get patients off the sidelines and back in motion.
Patients Will Happily Pay Out of Pocket for Pain Relief
Time and again, we hear from physicians that patients, particularly those enduring acute and chronic pain, will gladly pay out of pocket to get relief.
It's a myth that patients won't pay for treatments not covered by insurance. So a presumed objection is often easily overcome by the patient — deciding to put their health and wellness first, no matter the cost.
Having already invested time and money in various ineffective treatments, trying regenerative options like shock wave that holds such promise it's an easy choice for many.
Longsuffering patients will search out novel regenerative medicine solutions to address what ails them. The appeal of restorative treatments like shock wave and EMTT is that they are evidence-based, non-invasive, requiring no surgery, risk, or downtime.


Ready to Add Shock Wave and EMTT to Your Continuum of Care?
Healthcare providers can add shock wave therapy, EMTT, and other innovative regenerative solutions to their continuum of care to improve patient outcomes and help their patients get back to the activities they love.
CuraMedix is the leading full-service U.S. distribution partner supporting the complete suite of STORZ Medical radial pressure wave, focused shock wave, and now "High Energy" Magnetotransduction (EMTT) devices. Our medical partners rely on us for exceptional service, support, education, and training.
Patients today want non-surgical treatment options for accelerated healing – with no downtime, no anesthesia, and no risk. Be the go-to provider for the solutions they seek, and it will be mutually beneficial for patients and practice.
If you are interested in leading the way with innovative medical technologies, we're here to help.
We'd be happy to answer questions you may have about the possibility of adding shock wave or EMTT to your continuum of care. Contact us today, and we'll connect you with one of our knowledgeable team members.