For physicians who use or are considering using Extracorporeal Shock Wave Therapy (ESWT) in their practices, research and learnings from like-minded medical professionals are invaluable. Level 10 books offer just that, with each book providing a compilation of insights across a range of medical specialties.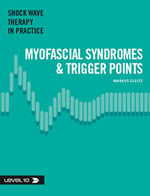 Shock Wave Therapy in Practice: Myofascial Syndromes and Trigger Points, written by renowned orthopaedic specialist Dr. Markus Gleitz, offers a deep dive on the application of shock waves in muscles. This work of reference is created specifically for orthopaedists, specialists in sports medicine, and muscle therapists who are interested in the treatment of trigger points and myofascial pain syndromes using extracorporeal shock waves.
This helpful Physician Overview gives you a quick look at what you'll find in the book, Shock Wave Therapy in Practice: Myofascial Syndromes and Trigger Points. The book presents not only the physical principles of shock waves; it describes the pathophysiological aspects as well as the root causes of muscular pain. Also covered are the diagnostic and therapeutic possibilities of using radial and focused shock waves on muscles in a comprehensive and practical manner. Highlights include the following:
Physical basics
What are the physical basics of both focused shock waves and radial shockwaves? View a clinical comparison of shock waves and pressure waves.
Muscles as organs of pain
Learn about the pathophysiology and local causes of muscle pain and referred pain. This section also discusses:
Muscular trigger point (MTrP)

Extramuscular trigger points
Duration of myofascial pain treatment
Errors in the treatment of myofascial pain
Shock wave application to muscles
Explore how focused and radial shock waves were historically applied to muscles to alleviate pain and reduce muscle tone and muscle shortening, and how they are used today. This section takes a deep dive on the mechanisms of action in muscle treatment. It discusses the benefits, indications and contraindications, and explores diagnoses prior to shock wave therapy.
Physicians will also learn about treatment and therapy, gaining insights into the following areas:
Treatment routine

Treatment parameters
Treatment frequency
Treatment documentation
Therapy progress and success
Indications for success
What are the orthopaedic indications that are treated most successfully with shock wave therapy? Discover a wide range of indications, starting with one of the most frequent: cervical syndromes with brachialgia, dorsalgia and cephalalgia.
For each indication, you'll find recommendations for treatment of the most commonly affected muscles, with user photos and a number of examples from the field. Indications listed in the chart below are accompanied by data points and useful visuals that include ultrasound images, photographs of proper shock wave applications, and application tips and methods (i.e., patient positioning, treatment techniques, type of shock wave used, etc).
Indications include: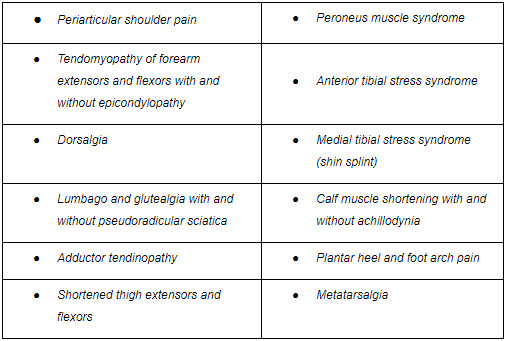 If you're interested in the complete Level 10 book, Shock Wave Therapy in Practice: Myofascial Syndromes and Trigger Points, you may place your order here.
Questions or comments? Ask them below.