For physicians who use or are considering using Extracorporeal Pulse Activation Technology (EPAT), often referred to as ESWT and shock wave therapy, Level 10 books offer invaluable research and learnings from like-minded medical professionals who use and benefit from this technology in everyday practice.
Since the early beginnings of shock wave in urology, the range of applications of EPAT/ESWT has rapidly increased. Today, practitioners of various medical disciplines use the non-invasive method for the treatment of their patients with great success.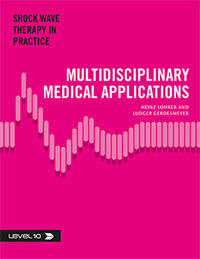 In this publication, Shock Wave Therapy in Practice: Multidisciplinary Medical Applications, editors Prof. Heinz Lohrer and Prof. Ludger Gerdesmeyer deliberately do not focus on only one medical indication; instead, they offer a comprehensive view of the indications and application areas of EPAT/ESWT.
From 'angina pectoris' to 'wound healing,' the various sections explore the studies, research and conclusions around EPAT/ESWT. This literary approach, supplemented by helpful tips, field reports, and diagrams, gives medical professionals, like you, a look at the bigger picture – plus the insights needed to unlock the full potential of shock wave as a treatment option within your own practice.
For a taste of what you'll find in the book, we've outlined some of the main highlights below.
Physics: F-SW and R-SW (Focused Shock Wave and Radial Shock Wave)
Start at the beginning by learning about the basic components of focused and radial shock wave physics. This section draws from references published previously by Dr. Pavel Novak.
Mechanotransduction: Mechanical Stimulation of Biological Processes
How do shock and pressure waves initiate the healing process? Learn how mechanical stimuli can be induced by shock waves and affect the body's cellular and tissue plasticity. Additionally, this section addresses questions such as:
What is mechanotransduction and how is it sensed in the body?
How can these kinds of stimuli be involved in stem cell-dependent regulation?
How can the effects of shock waves be explained by mechanical stimuli?
Paradigm Shift: ESWT Applied to Growth Plates
Explore research on radial shock wave for apophysitis calcanei (Sever's disease; also referred to as overuse injury) in children who are engaged in sports. This section details a study on the effectiveness of radial shock wave in children with this condition in a small case series. Readers can review the study from start to finish, from the background, material and methods, results, and critical conclusions.
EPAT and Knee Arthroplasty and Fascia
What is the impact of radial shock wave in ligament pain after total knee arthroplasty? Separately, learn about shock wave treatment of musculoskeletal disorders of fascial origin.
Bone Healing
Bone fracture healing is a complex process. This section explores the application of shock wave treatment for bone healing disturbances. Learn about bone healing throughout each of the different phases, from Haematoma, to Inflammatory, to Granulation, and so on. Explore the studies surrounding reparative osteogenesis; including how it can be summarized as a complex interaction of cellular and biochemical phenomena.
Additional sections explore the findings and references pertaining to:
Avascular Osteonecrosis of the Femoral Head
Acupuncture Without Needles
Cardiology: Treatment of angina pectoris and upcoming indications
Dermatology: Clinical experience in the management of neuropathic ulcers of the foot in diabetes and literature review of wound healing by shock wave therapy
Aesthetic Dermatology: Acoustic Wave Treatment of aesthetic disorders
Neurology: shock waves in neurological rehab; a review of earlier studies
Dentistry: treatment of gingival pockets with shock waves
Otorhinolaryngology: shock wave lithotripsy in sialolithiasis therapy
If you're interested in ordering the Level 10 book, Shock Wave Therapy in Practice: Multidisciplinary Medical Applications, you can place your order here.
Questions or comments for the CuraMedix team? Ask them below.