Interested in learning more about treating fascia tissue with EPAT (Extracorporeal Pulse Activation Technology)? This Level 10 book is a comprehensive guide that will expand your knowledge on treating your patients with EPAT. Our Physician Overview touches on the book's highlights to help you decide whether to add it to your medical library.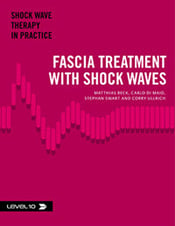 Fascia Treatment with Shock Waves is written by renowned orthopedic specialists Matthias Beck, Carlo, DiMaio, Stephan Swart and Corry Ullrich, all experts in their field who use Extracorporeal Shock Wave Therapy (ESWT) in everyday practice.
You'll gain key research and expert perspectives on fasciae, their physiology and their importance in myofascial energy transfer. You'll also learn about the relevant mechanisms of action and the application of shock wave treatment. Topics include:
Fasciae of the human body
A healthy fascia is elastic and can glide along other fascial structures. But what happens when this gliding quality is restricted? Adhesions occur in the fascial network. An overview of the anatomy of fasciae is presented, including both their macroscopic and microscopic structures.
The networks of fasciae
Fascia adhesions often affect not just one area of the body, but others as well. For example, localized fascial adhesion in the loin area may involve pain in the entire trunk from head to ankles. Explore why it's important to take a holistic approach to effective fascia treatment along with the role of myofascial release.
You'll also learn about more about the networks of the body, including fasciae on the surface of the body, in body cavities and deep within the trunk and extremities. Also covered are intramuscular and nervous system fasciae.
Innervation & biomechanics
Get an overview of fascia as a receptive structure and learn more about the relationship between fascia and nociceptive pain. The book also covers how fascia adhesions impact the body's ability to function and move.
Examination
Learn how to determine fascial elasticity and mobility, and any stiffness that may be present. Also included is an exploration of diagnostic tools such as sonography.
Shock wave therapy for fascia treatment
Discover how shock wave works for fascia treatment and myofascial release. Focused and radial shock wave treatment are discussed as well as PERI-ACTOR® transmitters.
Suction wave therapy
Explore VACU-Actor® Suction Wave Therapy as a treatment option for both static and dynamic applications. Examples are included to help illustrate this treatment option.
Performing treatment
Get a comprehensive look at how to treat various fascia with shock wave. See treatment recommendations for lower and upper extremities as well as for the thoracolumbar fascia. Detailed examples of treatment are explored for both plantar fasciitis and supraspinatus tendonitis.
Want to learn more? Place your order for the complete Level 10 book, Fascia Treatment with Shock Waves today.