If you're a hand surgeon or related medical practitioner, ESWT in Hand Surgery is an essential desk reference. It delivers a comprehensive overview along with treatment recommendations for applying Extracorporeal Shock Wave Therapy (ESWT).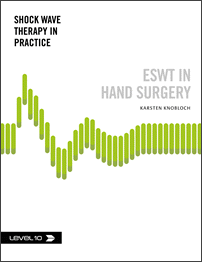 In this latest volume in the popular Level 10 education series, renowned plastic surgeon and professor Dr. Karsten Knobloch—along with esteemed international shock wave experts—share their successful treatment approaches using shock wave on its own or in combination with other therapeutic modalities.
Both comprehensive and highly scannable, the book is conveniently broken out into five sections, each focused on different tissues of the hand: bones, tendons, muscles, soft tissue and nerves. After a brief history of both Focused Shock Wave (ESWT) and Radial Pressure Wave (EPAT), you'll find detailed treatment plans for a wide variety of hand cases, including these indications:
Scaphoid fracture
Ulnar impaction syndrome
Trigger finger
Ganglions
Hand spasticity
Dupuytren's disease and knuckle pads
Carpal tunnel syndrome
ESWT for Bone Healing and Tendons
In the bone section of the book, explore the effects of ESWT on animal bone healing measured by micro-CT. You'll also discover details about how ESWT is being used to treat scaphoid non-unions, lunate bone necrosis, ulnar impaction syndrome and osteoarthritis of the thumb.
You'll also find this book to be a valuable resource for treating tendons, with separate chapters dedicated to trigger finger syndrome of the flexor tendons, ganglion and hand spasticity.
ESWT for Soft Tissue Cases and Nerve Treatment
For soft tissue cases, explore ESWT protocol for successfully treating fibromatosis indications. There are chapters dedicated to Dupyutren's disease of the palm and knuckle pads along with Ledderhose's disease of the foot. You'll also learn more about how ESWT is demonstrating increasingly promising results for burn wound rehabilitation.
For nerve treatment, there are chapters that cover treatment using EPAT for carpal tunnel syndrome and combined EPAT/ESWT for diabetic nerve syndrome.
Based on the latest research and their own extensive clinical experience, the authors provide specific treatment recommendations. Each chapter contains numerous images and examples, helping to broaden your understanding of the technology and shed new light on how to successfully incorporate EPAT/ESWT into your treatment plans.
If you're interested in ordering the Level 10 book, ESWT in Hand Surgery, you can place your order here.
Questions or comments for the CuraMedix team? Contact us at any time.