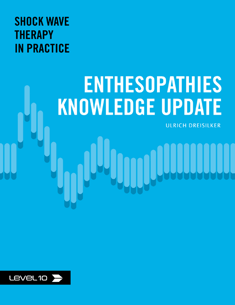 Since first used for musculoskeletal pathologies in the early 1990's, shock wave therapy has made rapid strides. And practitioners who regularly administer shock wave therapy need to consistently up-level their skillset to stay abreast of the latest evolution in technology and treatments.
In this updated volume of the ever-popular Level 10 research series, world-renowned physician and shock wave pioneer Dr. Ulrich Dreisilker has produced a revised edition 'Enthesopathies – Knowledge Update' to further expand on and update his classic publication 'Enthesopathies.' As a cofounder of DIGEST (The German-language Society for Extracorporeal Shock Wave Therapy), he is among the preeminent knowledge sources and educators in the field of ESWT.
A growing body of evidence concerning mechanisms of action of shock wave therapy was the inspiration behind the decision to update and expand the original reference work entitled 'Enthesopathies' (published in 2010).
When you explore the content, you'll find it comprehensive in its breadth and depth. Because the volume is well designed, you'll also find the subject matter accessible, making it easy to go directly to a particular area of interest. The book begins with a brief and updated overview of ESWT. After that, you'll find the desk reference divided into six sections packed with the latest information by category:
Focused Shock Wave Therapy (ESWT) vs. Radial Pressure Wave Therapy (EPAT)
Shock waves: mechanism of action
General treatment information and treatment fundamentals
Long established indications
Other indications in sports medicine
Newer indications
What is Enthesopathy and How Can ESWT Help?
Enthesopathy is a dysfunction of the entheses, the juncture at which tendons or ligaments attach to bone. Either injury or disease can cause Enthesopathies.
In the case of enthesopathies and tendinopathies, the activation of the stem cells by ESWT is what sets in motion the regenerative effects on pathological tissue. Both shock waves and pressure waves relieve trigger points by enhancing blood flow to the treatment area. Additionally, lymphatic drainage occurs and improves and thus counterbalances the deficiency of cellular mitochondria.
The long-established indications for the use of ESWT in tendinopathy and enthesopathy treatments include:
Shoulder impingement/tendinopathy
Lateral and medial humeral epicondylopathy
Insertional tendinopathy of the distal biceps tendon
Tendinopathy of Achilles tendon (mid-portion or insertional)
Plantar Fasciitis
Patellar insertional tendinopathy
In sports medicine, ESWT has proven effective in treating many dysfunctions, including tendinopathies of the hamstring, hip adductor, iliotibial band, and more.
The new and emerging indications for shock wave therapy are as extensive as they are promising. Dive in and explore these new treatment possibilities for your practice:
Tendinopathy of myofascial trigger points
Cervicooccipital and cervicothoracic regions of the spinal column
Lumbar spine region and gluteal region
Piriformis syndrome
Carpal tunnel syndrome
Trigger finger
And more
ESWT is an Exceptional Option for Patients Seeking Enthesopathy Treatment
ESWT is a non-surgical option for treating enthesopathies and tendinopathies that are backed by science. Practitioners should fully inform patients as to the regenerative effect and anticipated recovery period associated with treatment.
Furthermore, patients must understand that ESWT is ideal for treating chronic degenerative conditions. Concise, patient-friendly language is the best method to convey how shock wave works. When a practitioner effectively uses ESWT in cooperation with a duly informed patient, the outcome is known to deliver lasting effects.
Wrap-Up on Enthesiopathy Treatment Options
This new Level 10 book discusses the advent of new technologies in the field of shock wave therapy. A brief introduction is provided regarding the use of Extracorporeal Megnetotransduction Therapy (EMTT). EMTT shows decisive systemic action at depth, and when used in a complementary approach with ESWT, it promises to expand the range of musculoskeletal disorders that can be treated.
Knowing the importance of this new technology, CuraMedix recently announced the launch of the new EMTT (Extracorporeal Magnetotransduction Technology) device, the MAGNETOLITH, powered by STORZ Medical. Learn more about our EMTT launch in the USA on our blog.
Within the book, you'll find numerous color illustrations and graphics which serve to facilitate understanding further. A desk reference such as this is truly indispensable for shock wave therapy practitioners and physicians regarding ESWT treatment and its application in a patient setting.
Request your copy of this essential Level 10 desk reference today, Enthesopathies – Knowledge Update.