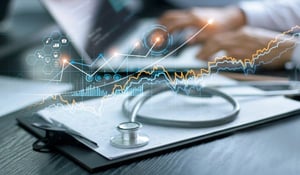 These days, a wide variety of innovative technologies are available to help you achieve your goals for both your practice and your patients. Certainly, everyone wants to make wise buying decisions; but given the unending array of choices, the decision to invest in new medical technology can be overwhelming.
When considering your options, many valid questions will likely swirl through your head: Is this where you should invest your hard-earned dollars? Will this new medical technology be the most helpful to my patients? And on it goes…
Let's simplify the daunting task by posing meaningful questions to consider and dive into the answers. This information will arm you with what you need to know to make a wise choice when contemplating a medical device purchase.


1. Does investing in this particular new medical technology align with my practice strategy and goals?
Let's start by defining your goals; for you and your practice. Are you seeking improved revenue outcomes? Helping your patients get better faster? Want to differentiate your practice from others in your area? Looking to attract new professionals and staff?
It's important to ponder because the addition of the right new technology in healthcare practices can significantly impact practice growth and patient outcomes. Whatever your goals, be certain your investment in new medical technology ticks all the right boxes and supports your efforts to achieve them.


2. Is the new medical technology I'm considering evidence-based?
Offering new technology in healthcare practices only makes sense when it's backed by evidence. More importantly, does the evidence include Level 1 studies? Not all technology and medical equipment can make that claim. Now more than ever, strong clinical evidence like this is becoming an essential influencer for physicians in the decision-making process.


3. Are my peers using this new medical technology in their practices?
Are you aware of other physicians/practices that have implemented this new technology in healthcare settings? Are your peers using the technology with positive results? Has a respected colleague recommended the medical device? Are peers talking about and considering purchasing the same equipment?
Endorsements from reputable medical professionals and thought leaders in your field should hold considerable weight and be a key element in your decision-making process. Be sure to review testimonials from other doctors who have incorporated the technology you're considering. Network and connect with your peers at industry events when possible. Consider asking the company to provide you with one or two referrals that you can talk with directly to ask pertinent questions.


4. Will this new medical technology support evolving patient expectations and demands?
When incorporating new technology into your practice, be sure that it supports your patients' needs both now and in the future. An increasing number of patients are looking to avoid invasive treatments like surgery and embrace non-invasive therapies that relieve pain faster with no downtime.
With the advent of Google, patients can look for treatments they desire, which includes searching for practitioners that offer specific treatment modalities or technologies.


5. Will this new medical technology differentiate my practice from others in the region? And attract new patients?
Differentiation is the key to growth and helps to define your business. Take a look at other practices in your area and consider: where's the opportunity gap? What are they NOT doing that your practice COULD be doing?
Patients today are fully invested in reaching their health goals. They are selective about treatment choices and are willing to pay to feel better. Adding just one new piece of medical equipment (and therefore, an entirely new treatment option) can help you attract a whole new stream of patients specifically seeking that option. Featuring new technology in healthcare practices gives you these new capabilities that enable you to keep treatments in-house that were previously referred to outside specialists.

6. What kind of ROI can be expected with this new equipment?
Oftentimes the upfront cost of new medical equipment comes with jaw-dropping sticker shock. For many, it can be a reach to bite it off all at once. A new or updated piece of equipment, for instance, may cost $25,000 or more.
Setting that aside, if adding the new technology to your continuum of care means improved patient outcomes, more options for patient care, all of which leads to an increase in patient referrals—the longer-term gains are priceless and quickly justify the upfront cost.


7. How can I use this new medical technology to its fullest potential?
Featuring the most cutting-edge technology can benefit your office in a multitude of ways, but only with proper usage and training. Far too often, physicians buy the best equipment on the market, only to do the same things they always have done.
It makes sense to get behind your investment and consider how you will incorporate this new technology into your continuum of care. What changes will you need to make patients aware of this new equipment and the associated treatment options? Seek a company that provides exceptional training, service, and support to ensure that your new device is being used to its fullest potential, which naturally generates a more substantial return on investment.


8. What's the best way to pay for your new equipment?
You know your financial health better than anyone. And there is no single best way to pay for new medical equipment; it's really a matter of what works best with your situation. Some choose to pay upfront by check, while others prefer to finance medical equipment purchases over some time. While there are benefits to both, the company you're working with can clarify options and resources to help you make the most informed financial decision.


9. What are the tax implications of purchasing the new medical device?
In all likelihood, you're probably familiar with Section 179, which allows business owners to deduct the total purchase price of qualifying equipment that was purchased or financed during the tax year. So, rather than depreciating equipment over the asset's useful life, you get a more immediate write-off benefit on your taxes. When looking to purchase capital equipment, take a look at Thinking About Investing In Capital Equipment? What You Should Know About Section 179.


10. How important is it to take a close look at the company you're buying the device from?
Who you do business with is equally important as the new technology you purchase, and here's why…
Choosing the right company to purchase from is critical to the ROI of your medical device and is linked to the success you'll have incorporating it into your practice. How so? Well, the most reputable vendors will be true partners post-purchase, offering ongoing support to help you maximize your investment. They'll help you integrate the new technology into your practice and help you use it to its fullest potential. When selecting a vendor partner, be careful to choose one dedicated to exceptional customer service, marketing guidance, and technical support. Here again, it's advisable to connect with other medical professionals who can share their experiences and feedback.
Ultimately, the best thing you can do for your patients is to offer exceptional care and treatment. By investing in new medical technology and equipment, you can achieve that essential goal more efficiently. And while the decision can take some time as you contemplate each factor, making the right choice will pay off handsomely in the long run.
CuraMedix is the leading US distributor and the only one to offer the complete suite of STORZ Medical radial pressure wave and focused shock wave devices as well as the new EMTT device, the MAGNETOLITH.
In addition to EPAT/ESWT and EMTT, look to CuraMedix for Diagnostic Ultrasound, Laser, PRP & More. You can improve patient outcomes, increase practice ROI with evidence-based, non-invasive technology that we offer to our physician partners. New medical technology added to your continuum of care can mean increased referrals and eliminating patient pain fast, all while setting your practice apart.


Know you could grow your practice with EPAT/ESWT but still on the fence? Contact us today, and we'll connect you with one of our shock wave experts.