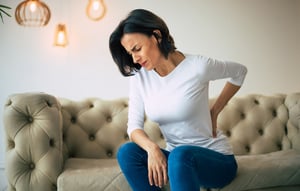 Millions of Americans suffer from musculoskeletal disorders nationwide, and these conditions can and should not be ignored because they will become even more prevalent as the population ages. These dysfunctions limit activities and often affect the ability to enjoy many areas of everyday life, from work to fitness to daily living activities that formerly brought joy rather than pain.

While musculoskeletal disorders are commonly treated by practitioners and physicians alike, this topic is rarely part of health and cost discussions. And that's what makes the study by The Bone and Joint Initiative USA so fascinating. For a deep dive, you'll want to explore the full article here. The study

"

The Hidden Impact of Musculoskeletal Disorders on Americans – Opportunities for Action"

reveals startling statistics on the scope and cost of these problems. Take a glance at the facts below:

The IMPACT of Musculoskeletal Disorders at a Glance
Musculoskeletal disorders are:
Common; affecting more than 1 in 2 adults (124 Million + over 18)

Costly; treatment costs and lost wages have increased exponentially over time
Known to impair quality of life; 52% report it impacts activities of daily living – that's higher than any other condition
Often paired with co-morbidities
Found to affect all age groups
Warrant more research and practice investments
Can be prevented and treated more effectively
Musculoskeletal Disorders: The Surprising Toll on Americans
Compared to other conditions, musculoskeletal disorders actually lead the pack as a cause of lost work days which naturally impacts productivity. That is a dubious distinction and eye-opening. Given the aging population, it's projected that numbers will only increase if something is not done to address and reverse the impacts noted.
According to the Global Burden of Disease, low back and neck pain are among the top five causes of disability, and osteoarthritis is in the top 20. Despite the significant economic and health toll affecting such a large segment of the population, these disorders receive far fewer research dollars than other conditions.


How can evidence-based regenerative treatment for musculoskeletal disorders ease the burden for patients nationwide?
Look no further than the evidence-based regenerative treatments offered by CuraMedix, including EPAT, ESWT, and EMTT, to quickly and effectively treat the musculoskeletal disorders plaguing so many Americans today. Numerous scientific research studies confirm the efficacy of these remarkable technologies, and all can deliver outstanding outcomes for many musculoskeletal conditions. Therefore, the actual burden of disease could be alleviated by reducing disability rates simply by utilizing evidence-based regenerative technologies such as EPAT, ESWT, and EMTT. The impacts of musculoskeletal disorders are significantly minimized by using these powerful medical technologies, easing pain, getting patients back in action quickly with no downtime, and avoiding the need for surgery. See the technology highlights of shock wave therapy and magnetotransduction therapy below.


EPAT (Extracorporeal Pulse Activation Technology)
An evidence-based, non-invasive technology platform that uses unique sets of acoustic pressure waves to elicit a healing response from diverse tissues. Sometimes referred to as radial pressure waves, they are lower energy and generate the highest pressure closest to the skin's surface, fading at weaker depths.


ESWT (Extracorporeal Shock Wave Therapy)
ESWT, focused shock wave, has higher energy and generates maximum force at a selected depth. This non-invasive treatment involves delivering shock waves to injured soft tissue to reduce pain and promote healing, which is an innovative and effective alternative to surgery.

EMTT (Extracorporeal Magnetotransduction Therapy)
A form of magnetic therapy, EMTT, has opened new pathways and possibilities in the regeneration and rehabilitation of musculoskeletal disorders.

This breakthrough technology is a game-changer, offering the latest innovative way to get patients better quickly and efficiently, without unnecessary risk or the need for surgery.

Get your hands on

the MAGNETOLITH, an EMTT device powered by STORZ Medical, as it was recently launched into the U.S. market.

This device enables practitioners to relieve patient pain and dysfunction with no downtime and can be used in conjunction with ESWT for more impactful results.
Want to become part of the solution by adding unrivaled, innovative technology like EPAT, ESWT, and/or EMTT to your continuum of care?
With more than half of the adult population afflicted with musculoskeletal disorders, surely, offering the most effective alternative treatments is an opportune occasion for medical practices to differentiate themselves from competing practices.
Since the burden of musculoskeletal disorders is tremendous, it points to an enormous opportunity for medical practitioners that offer the most innovative and efficacious treatment modalities. This type of practice investment benefits patients and practices alike.
Give your patients the relief they deserve faster by harnessing the power of these science-backed, evidence-guided technology platforms being used in the treatment of a broad range of musculoskeletal disorders and conditions that affect muscles, tendons, ligaments, fascia, bones, joints, and other vascular structures.


Are you intrigued by this golden opportunity to provide evidence-based treatment for musculoskeletal disorders?
Attract a steady stream of new patients seeking non-invasive treatment for musculoskeletal conditions. Be part of the solution to this common healthcare problem by offering the best available medical technologies. You can uplevel patient care, rise above the competition, achieve practice growth, and receive marketing support from CuraMedix along the way.
You'll find that it's our mission at CuraMedix to provide medical professionals with the latest emerging medical technologies. The company is the leading U.S. distributor of STORZ Medical radial pressure wave, focused shock wave, and EMTT devices -- all paired with unrivaled marketing support. We partner closely with our physicians and healthcare practitioners to deliver and achieve best-in-class outcomes.
Considering adding EPAT/ESWT/EMTT to your continuum of care? We'd love to connect. Contact us today to speak with one of our experts.