Need to attract new patients? You may want to consider incorporating direct marketing. Here's a quick primer on what it is and how to use it.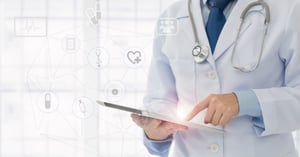 First, a quick definition.
In a nutshell, direct marketing is something you do to get patients or prospective patients to take action, such as provide an email, call for information or visit your website. Direct response techniques are often used these days in online marketing like email, social media, podcasts and digital advertising. You can also find them in more traditional media like direct mail, radio, TV and print ads.
Why direct response is great for practices.
With direct response, you can usually target a small group of people, like those who live near your practice. That makes it very effective -- because you're targeting a specific group, it's easier to connect with them and create compelling messages tailored to people's unique needs and preferences.
And, since patients take action in response to your marketing, you can measure results and know if it's working.
Here's an example of direct response in a Facebook post.
Traditional Facebook post
3 reasons our patients love EPAT? No surgery. No downtime. No risk. Call us today to learn how EPAT addresses acute and chronic pain.
Direct response Facebook post
3 reasons our patients love EPAT? No surgery. No downtime. No risk. Get a free consultation to see if EPAT can give you more pain-free days. Call us at XXX-XXX-XXXX and ask for a FREE CONSULT. Offer expires Oct 31.
You could also use this same basic approach in other places besides Facebook, such as displaying it prominently on your website homepage or sending out a postcard mailer.
3 ways direct response is different from traditional marketing.
Looking at the examples above, you'll notice three distinct differences between them:
Specific offer -A free consultation helps prospective patients move forward.
Call to action -The reader has a specific action to take about EPAT: Call and ask for a FREE CONSULT.
Urgency -An offer expiration date helps patients take action sooner.
4 steps you can take to get started
Be as specific as possible.
If you are a podiatrist focused on helping patients with plantar fasciitis, create an ad about foot pain. Targeting a list of active adults? Talk about getting back in the game. Specificity boosts response.

Keep the process simple.
Do you want patients to call you? Fill out a contact form? You want to ensure next steps are ultra-clear. If there's doubt or ambiguity in your message, patients are less likely to respond.

Make it measurable.
There are so many ways to track responses. You can get a vanity phone number from your phone provider. Respondents dial a different number, but their calls come in through your regular phone system, giving you the ability to track them separately. In the same way, you can also use customized URLs or landing pages to track response rates. Some people name the offer and tally how many people ask for it. In the example above, we've called the offer FREE CONSULT, which would help staff with tracking.

Know the results.
Designate someone to pull the reports or tally the number of consults scheduled. Look at the number of new patients and the value to your practice, compared with any cost incurred. This will help you know if you should keep doing similar campaigns or move on to something else.
Consider trying a few of these tactics. Then reach out and let me know how it goes! To take your direct response efforts further, you may want to consider enlisting the support of an agency such as 201 Marketing and Media. Want more marketing tips to help your practice? Sign up for our Marketing Pulse newsletter today!