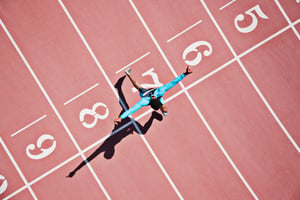 CuraMedix Partner Dr. David W. Nadler, a sports chiropractor practicing in Newtown Square, Pennsylvania, was featured in a recent article in Suburban Life Magazine.
The article spotlights the extraordinary value of Extracorporeal Shock Wave Therapy (ESWT) -- a non-invasive treatment option that is effective at healing pain and injuries in many musculoskeletal conditions. Shock wave is an innovative therapy that requires no downtime and is an excellent non-invasive alternative to surgery.
Dr. Nadler was an early adopter of the technology and has been successfully treating patients with ESWT since 2007. He shares his wealth of knowledge in treating patients from every walk of life.
ESWT is a Treatment Game-changer
Focused Shock Wave, otherwise known as ESWT, is a revolutionary technology that gives physicians an innovative modality to treat and heal patient pain and injuries. It's possible to achieve incredible healing outcomes with this restorative treatment approach. It's clear that Dr. Nadler champions ESWT as a treatment game-changer and values how shock wave ignites the body's natural healing process.
He masterfully describes the ins and outs of how shock wave works: "It works by something called mechanotransduction, causing an inflammatory response, which is the body's natural healing process. In medicine, we know the lack of blood flow is a major contributing factor that impedes healing in muscles, tendons, bones, and wounds. The shock waves stimulate VEGF (vascular endothelial growth factor), which causes angiogenesis, something that stimulates the growth of new blood vessels in addition to other growth factors for tendons, cartilage, and bone. This type of treatment is a game-changer."
Before treatment, Dr. Nadler conducts a thorough orthopedic and palpatory examination to assess the patient's range of motion and also performs muscle testing.
The Course of Treatment with ESWT
It is said that ESWT has an 80% success rate from improving sports performance to delaying the progression of osteoarthritis. Patients ordinarily undergo a course of five treatments, each lasting approximately 30 minutes.
With the focused and precise energy and pinpoint accuracy, the maximum treatment depth is 12 centimeters.
Upon completion, there is also a 12-week post-treatment, and during this period, tissue remodeling and regeneration occur. Prior to the advent of shock wave therapy, physicians relied upon physical therapy, electrical stimulation, and rehabilitation when treating musculoskeletal pain and injuries. While those methods are still used, they are often utilized in conjunction with shock wave.
Treating Weekend Warriors to Elite Athletes and More...
From elite athletes to active seniors and everyone in between, Dr. Nadler offers a breakthrough treatment approach via shock wave for those suffering from pain and musculoskeletal injury.
His vast experience treating athletes is a testament to his knowledge of the power of shock wave. He currently is a team chiropractic physician for:
The Philadelphia Wings of the National Lacrosse League
The Philadelphia Freedoms Professional Coed Tennis Team
Royal Elite All-Star Cheerleading
Additionally, he treats professional athletes in the NBA, MLB, NFL, and MLS. Athletes aside, he regularly treats weekend warriors, retirees, and everyone in between with ESWT.
In Dr. Nadler's own words, "I am seeing everyone from pro athletes to high-level, world-class cheerleaders to weekend warriors, as well as your 60- year-old who has knee issues. All of them benefit from shockwave therapy. More than 500 empirical data show how effective it is. As I said, it's a game-changer."
Would you like to treat pain and musculoskeletal injury and dysfunction by adding EPAT/ESTW/EMTT to your continuum of care?
CuraMedix offers a top-of-the-line suite of regenerative technologies and devices that can equip you for practice growth and the ability to deliver best-in-class clinical outcomes to your patients.
Our physician partners value the support they receive from CuraMedix because we offer our medical practice partners one-of-a-kind marketing support designed to enhance practice growth possibilities. It's one of the ways we provide high-level service value to healthcare practitioners.
Be sure to read Regenerative Sports Medicine: ESWT the Newest Disruptor for more information on the technology and its power. If you'd like to see an informative webinar, check out The Art of Shock Wave in Sports Medicine
Have questions about EPAT/ESWT/EMTT and wonder what adding these technologies to your continuum of care would mean to your patients and your practice? We're here to answer any questions and are delighted to connect you with one of our shock wave experts -- Contact us today!