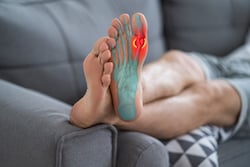 Extracorporeal Magnetotransduction Therapy (EMTT), the latest medical disruptor, is a form of magnetic therapy. This technology redefines treatment possibilities in regenerative medicine and rehabilitation. EMTT equips medical practitioners with game-changing therapeutic options enhancing patient outcomes in treating musculoskeletal disorders, tendinopathies, and pain.
In 2021, CuraMedix debuted a new and noteworthy EMTT device, the MAGNETOLITH, powered by STORZ Medical, into the US market.
This breakthrough technology is another innovative way to help patients get back to the activities they love without surgery, unnecessary risk, or downtime.
The conversations and interest around Extracorporeal Magnetotransduction Therapy (EMTT) continue to build as patients are on the lookout for non-invasive regenerative options to avoid surgery.
We find that our medical partners welcome clinical information from peers, so here is a finding worth sharing.


Incidental Finding on Bunion Relief after EMTT Treatment
CuraMedix partner Paul Hobrough is a UK-based physiotherapist, shockwave therapy leader, author, and educator.
It turns out that some medical discoveries are purely accidental, as is the case here. Paul enthusiastically shared the report below on his experience using EMTT in his practice.
"I have been a user of EMTT for just over a year and want to share some interesting discoveries during its use in my UK Sports medicine practice.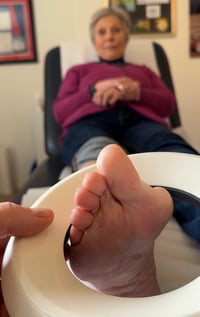 But first, some history that we are all aware of. Shockwave therapy was discovered through a happy accident in the late 1970s/early 1980s. The use of lithotripters for the destruction of kidney stones discovered the benefits of shockwaves for the body's tissues, and therapeutic shockwave was born.
In a similar light, EMTT, with its 6 RCT studies, means most clinicians are using EMTT for low back pain, pubic symphysis disorder, rotator cuff, hip pain, osteoarthritis, and Achilles tendons.
So, here's to another happy accident. Whilst using EMTT about 1 year ago for Achilles tendinopathy, my patient's bunion felt immediately improved. I was slightly shocked, this was not the intention of the treatment, but a happy accident that had occurred in front of my eyes.
A one-off? Placebo or a temporary effect, perhaps?
The following week this same patient came into my clinic and told me she was still pain-free in the bunion and was delighted. I treated the bunion directly this time (not just overflow therapy from the treatment of the Achilles) and, in fact, repeated this weekly for the 6 weeks of the Achilles treatment protocol.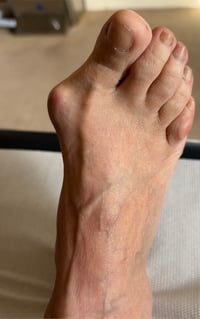 I am happy to report that one year later, this patient has not seen any return of her bunion pain. The bunion still exists, as does the toe deformity, yet no pain at all.
Since this first event, I have routinely been treating every known bunion attending my clinic, and I have seen the same positive results.
What is the mechanism of this result? Only future science will let us know. But just as with the first shockwave clinicians, the patients reported the effect before the scientists could catch up.
EMTT causes no harm, is in its infancy, and stories like this need to be shared so we can all learn and develop this modality just as its big brother ESWT has developed over the last 40+ years."
EMTT: What You Need to Know
The EMTT device, the MAGNETOLITH, is suitable for multiple applications and ensures patient comfort as well as ease of use for practitioners.
Notably, EMTT acts using high-energy electromagnetic radiation in the regional trauma area, which is a vastly different operating mechanism than ESWT. Alternatively, with shockwave, the mechanism of action is dependent upon high-energy acoustic and physical signals in a local treatment area.
Although the technologies differ, it's been confirmed in clinical settings that the two treatment modalities are remarkably complementary.
Discover the merits of EMTT:
Non-invasive, outpatient therapy
Virtually no side effects
Used for musculoskeletal diseases
Wide range of treatment options
High level of patient comfort and easy to use
EMTT is an advantageous complement to ESWT/EPAT
EMTT differentiates itself because of its high oscillation frequency of 100 —300kHz, which allows for greater depth penetration that, in turn, broadens the range of applications. EMTT is evidence-based and has been found efficacious in multiple clinical studies for individual indications.
Consider this impressive array of musculoskeletal treatment applications of EMTT:
Degenerative diseases and disorders of joints
Osteoarthritis and rear and tear conditions
Treatment of chronic and acute pain
Prevention or deceleration of disuse atrophy
Post-surgical stimulation
Recovery, maintenance, and improvement of range of motion
Relief of worn-out, achy muscles
Releasing of muscle spasms
Want to learn more about EMTT? Be sure to check out our EMTT Resource Hub to discover more about the technology, science, clinical evidence, and more in one convenient location.


Ready to Harness the Power of EMTT?
At CuraMedix, it's our mission to partner with medical professionals to integrate a full range of innovative, non-surgical tools, devices, and technologies into their continuum of care. The MAGNETOLITH is the newest edition to a growing lineup of innovative tools offered to our healthcare partners.
Thanks to the non-invasive nature of EMTT, it's attractive to patients, and treatments can be customized to the needs of each patient. When used in conjunction with ESWT/EPAT, clinical outcomes are amplified. The benefits of adding EMTT to your continuum of care are both clinical and financial.
Explore Extracorporeal Magnetotransduction Therapy (EMTT) White Paper for a deeper dive and compelling information.
Have questions about how adding game-changing EMTT to your continuum of care can be a win-win for practice and patients? Contact us today, and we'll connect you with one of our team members.