To borrow a line from Tina Turner, "What's Content Got to Do with It?"As it turns out, Everything!
3 Ways that Quality Content Online Generates New Patient Leads
Content Puts You Out Front on Google Search, Voice Search and in Directories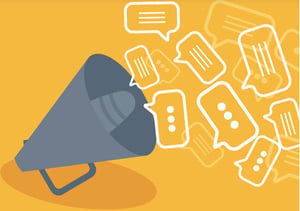 The larger your offering of fresh, relevant (i.e. patient-centered) content, the more likely search engines like Google or Bing will find you and rank you higher up in organic search results—something that no amount of money can buy.
Patients searching for health information will find you and head to your website, ready for conversion to patients. Searching could include your name, the type of practice you are, the issues you treat and even what special technologies or treatments you offer—including EPAT.
Content Is Social Media Currency
When interesting content is posted on your social media, people of all ages—most of whom are outside of your current patient base—become aware of you and your practice. Should a potential patient or any one in his or her circle need a medical professional, you will be top of mind.
Social media allows users to informally engage with you through comments or through sharing.This goes beyond simple brand awareness into brand advocacy. When people recommend you to others, we call this social proof.
Website Content Is a Representation of Your Knowledge
Educating patients, perhaps even before they've met you, accomplishes several goals:
Establishes you as an authority and/or expert in your field
Potential patients will often choose your practice over others whose websites offer limited information
You may be the recipient of inbound links from outside articles and blogs
The more time someone invests in exploring your site, the more likely they will choose you as their provider
Helps patients to put their problems in context and better describe their issues when they do see you
Properly curated online content is the best way to reach and serve the modern patient who expects answers right now. The bottom line is that when patients find answers to their questions, they are more likely to take action and book an appointment with you. And, while you're upping your content game, make sure it's easy for them to do it right online on your website!
Looking for valuable marketing tips specifically for healthcare professionals? Sign up for our blog today and make sure to check out Marketing Pulse, our bimonthly newsletter. Here you'll find great tips, pearls and easy-to-implement ideas.
And, if you're a podiatrist looking for fresh and useful content including blogs, videos and articles to attract new patients online, we'd suggest you reach out to Podiatry Connection to learn more about how they can help you communicate with and attract more patients.