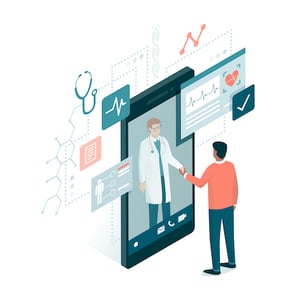 Traditionally, when practices wanted to communicate with patients, they'd simply pick up the phone and call. In the day-to-day running of a successful practice, there are so many reasons why an office may need to get in touch, including appointment reminders, billing questions, insurance verification and lab results to name just a few.
While calling patients is still an option, texting is the wave of the future, now considered an equally if not more acceptable form of communication. Here are 10 reasons to consider texting instead of or in addition to calling.
1. Reach the majority of patients quickly
When it comes to calling patients, a recent survey by TrueCaller reports that over 60% of adults don't answer calls from numbers they don't recognize. And voicemail is no longer considered a reliable way to reach a patient. According to the New York Times, over 30% of voicemails go unplayed for three days or longer — and over 20% of Americans don't check their voicemail at all.
In comparison, according to recent data, a whopping 97% of Americans use text messaging. And 90% of text messages are read in three minutes or less!
2. Engage using patients preferred method
When it comes to customer service, the majority (64%) of people prefer to be reached by text instead of voice. And this number will only continue to climb as more millennials and Gen Zers become your patients down the road.
3. Create significant efficiencies
Instead of making dozens of outbound calls each day, you can batch-text groups of patients with relatively little effort, reminding each patient about their upcoming appointment.
Texting is also an effective way to reach individual patients when you need to speak with them, such as to change an appointment or update insurance information. You can even text your phone number so they have it handy. This use of texting is efficient for patients and staff, because it eliminates countless outbound calls and there's virtually no phone tag. Here's why: When a patient phones during business hours, the call is almost always live answered.
4. Reduce cancellations and no shows
It is quick and easy for patients to confirm appointments via text which helps the practice readily identify which patients plan to keep their appointments and who needs to cancel or reschedule. Staff can then fill any empty slots with other patients.
5. Get in touch quickly when needed
When speed matters, such as for weather-related or scheduling changes — or even if the doctor is running late — texting is a quick way to send an update. If you leave a voicemail instead, you'll run the risk the patient didn't listen to the message and shows up at your practice expecting to be seen.
6. Provide education and information
Texting is a great way to provide patients with links to relevant information. On average, 97% of patients can access the internet with their mobile devices. While printed materials can get lost, tossed or filed, a text can be readily accessed whenever needed. Text links are a great way to steer patients to online videos, appointment-related instructions and follow-up care.
7. Stay connected between appointments
For those managing chronic conditions or needing to take action between appointments, texting can provide helpful reminders such as "Did you take your medicine today?" or "Don't forget to do your knee exercises today."
8. Create a richer patient experience
When patients can reach out to your office or their doctor via text, it provides a stronger connection to your practice. Value-added texts like additional resources and reminders can lead to increased patient satisfaction as well.
You can also survey patients via text and respond quickly if an issue ever arises. You can even use text to prompt happy patients to leave you positive reviews, which can help others find your practice. For more on patient reviews, check out this blog post.
9. Increase timely payments
A gentle text prompting a patient to pay an outstanding balance is much faster than mailing an invoice. You can even include a link to pay you online which can also speed up the payment process.
10. Bridge language barriers
When you have non-English speaking patients, texting is a great communication tool. If a patient prefers to communicate in a different language, texts can usually be sent in that language. These patients will appreciate your ability to meet their unique needs.
One of the best things about initiating a texting program is that no behavior change is needed from patients. And all of your employees who currently make outbound calls will immediately become more efficient. The time they save on routine tasks can free them up for more valuable interactions, such as patient-specific communication and providing the excellent customer service you want to be known for.
Interested in pursuing some text messaging services? Services and solutions such as those provided by OhMD can help you get started!
Could you use a few more practice pearls and marketing ideas? Get them delivered right to your inbox when you subscribe to the CuraMedix newsletter using the form below.