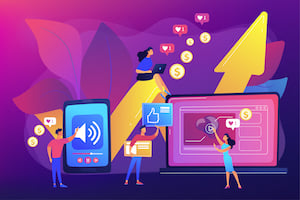 Spring 2020 will go down in history as an extraordinary time, particularly for those in healthcare. If you aren't on the frontline treating patients, chances are your caseload has slowed significantly. You may only be seeing emergency cases or perhaps none at all.
Although we don't know when, this pandemic will pass and business will resume. Take the opportunity to use some of this downtime to lay the groundwork for ramping up your practice when you get back to work.
Marketing during this time is about brand building, as opposed to lead generation which you've used in the past to encourage patients to call you and come in. Your brand is defined by the actions you can take and the value you bring to your patients. Right now, there are actions you can take to strengthen your brand with your patients and community, so you stay top-of-mind. when treatment resumes.
#1: Highlight the status of your practice
Many of you are already keeping your patients up to date about changes in your practice given the need for social distancing. Whether it's a simple notice on your home page or a patient email, a status update is a valuable service to patients. Plus, particularly now with COVID-19, there's definitely a reason to regularly be in touch with your clients as the situation changes. It's up to you which methods you prefer to keep patients informed. You may even choose to do a quick video like this very thoughtful one from Dr. Robert Conenello at Orangetown Podiatry.
#2: Use your credibility for the greater good
The Surgeon General called on social media influencer Kylie Jenner to help get the word out about social distancing to Millennials and Gen Zers. While we all don't have millions of followers like Kylie, we all have people in our lives that we personally influence, particularly if you are a medical professional. In fact, a recent survey revealed that 86% of people trust the advice of their local healthcare providers. The pandemic gives us a reason to speak up. And, if we can influence people to social distance and stay home, it's important to do so.
#3: Conduct a communications audit
It's a good idea to review all the ways you communicate with patients through the lens of the COVID-19 pandemic. You want to ensure you're building trust and staying empathetic to what patients may be currently dealing with. From auto-generated appointment reminder texts to website content, be on the lookout for messages that seem out-of-place in our new reality. For example, something that was humorous six months ago may now come across as insensitive.
#4: Refresh your website
Some of you have been saying that if you only had time, you'd update your website. Now's the time! Time is one of the precious commodities at your disposal right now. One way to use it is to think about upgrading your online presence. You may want to take a look at similar medical professionals in different geographic areas. Nothing wrong with using what others have done for inspiration to get your own creative juices flowing.
#5: Ramp up your social media presence
During the pandemic, people are spending more time on social media. What topics could you write, talk or post about now? Many people are working from home, so perhaps a series of posts on simple exercises to avoid pain. Or with elective surgeries being postponed, perhaps it's an opportunity to plant the seed about non-surgical treatments, such as EPAT/ESWT.
#6: Professional webinars
Many professionals are taking advantage of downtime to learn new skills. So much of it is happening via webinars. Is there educational content you could share with your referral partners or even with your patients? Now may be a great time to host something live and online.
#7: Virtual community events
Most, if not all, community events you have scheduled have been postponed. Why not try digital alternatives instead? For example, you could host a podcast and discuss a health related subject that interests you or even a technology, like EPAT/ESWT, that you offer and want to highlight.
#8: Virtual lunches with referral partners
Invite one referral partner a week to lunch via Zoom to talk about business before COVID-19 and your plans for after. It will give both of you a break from the isolation many of us are experiencing right now. You may even get some new ideas for your own practice. And it's a way to stay in touch with those who send you new patients.
#9: Add a new capability to your practice
If you haven't done so already, you may want to explore telemedicine to streamline new patient consultations or check-in visits with patients. Many patients appreciate the convenience, and you may find that it can be an efficient way to manage some patient interactions.
#10: Blogging
One of the other things so many medical professionals wished they had time for is blogging: putting content out there for others to read on issues, treatments and technologies that are relevant to you as a medical professional and valuable to your patients to learn more about. If you wrote and published just one blog a week, you could improve organic search results. Publish 3 or 4 and you can easily turn it into an email newsletter to patients.
What useful information could you provide to patients? Think about what's relevant right now. For example, with more of us taking walks, perhaps you can blog about how to avoid injuries. Or you could provide tips on home office ergonomics to avoid muscle strains.
These are just 10 ideas to get you thinking about how to engage your patients and share valuable, educational and interesting information. There are many more! However, don't get overwhelmed. Even if you just add in one more way to connect, you are making the most of this extra, unexpected time we've been given.
Interested in more marketing ideas to help grow your practice? Get tips delivered right to your inbox when you subscribe to the CuraMedix marketing newsletter.