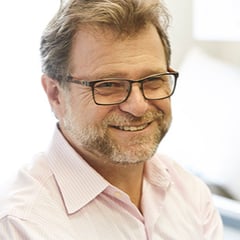 Get ready to broaden your understanding of ways to use shock wave. In this webinar, leading chiropractor Brian Nathanson shares his approach and techniques for using shock wave to successfully treat patients.
Throughout this highly informative presentation, you'll learn more about how Dr. Nathanson is:
Taking a holistic approach to uncover and treat the root cause of injury
Using EPAT to disrupt and repair tissue for improved mobility
Achieving impressive outcomes for conditions like lateral epicondylitis, subacromial impingement syndrome and patellar tendonitis
Successfully combining EPAT with other modalities like the Graston Technique®
Differentiating himself from the many other chiropractors in his region
Whether it's return to sport or everyday activities, see how Dr. Nathanson is helping his patients get back to their active lives sooner. Dr. Nathanson also credits EPAT with reinventing his practice, allowing him to continue his thriving practice into his 60s with less dependence on traditional manual manipulation techniques.
If you're a chiropractor, physical therapist or a professional in a related field, take a few minutes to explore how shock wave can make a tremendous difference for your patients and your practice.