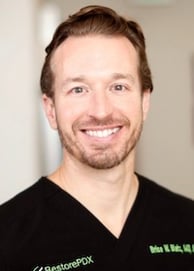 Meet and learn from CuraMedix new Medical Director, Dr. Brice Blatz, who one of the leading physicians at RestorePDX Spine & Interventional Orthopedics in Oregon. Dr. Blatz is a procedural-based practitioner focusing on Musculoskeletal (MSK) regeneration, ortho-biologic and regenerative therapies.
Dr. Blatz's enthusiasm and extensive knowledge are expertly communicated on how to achieve optimal success when onboarding and integrating shockwave and EMTT into your continuum of care.
Here's what he covers in this information-packed session:
Insights on how he leverages the power of shockwave and EMTT in his practice
Which acute and chronic conditions respond favorably to these regenerative technologies – plus treatment approaches
When it makes sense to add other regenerative modalities (such as ortho-biologics) to the treatment protocol
How shockwave and EMTT boost ROI, define and differentiate a practice, and accelerate growth
After watching this informative and engaging presentation, you'll be eager to implement these strategies into your practice. Get equipped to activate practice growth and ensure optimal patient outcomes. Ignite your inspiration today!