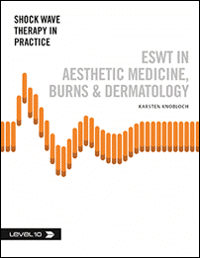 Price: $42 + shipping/handling
Part of the Level 10 Essential Knowledge series, ESWT in Aesthetic Medicine, Burns & Dermatology is a reference book if you perform reconstructive, burn or aesthetic surgery.
Dr. Karsten Knobloch, FACS has gathered the latest research and articles, making this an essential read for all shock wave users in the field and those interested in learning more.
Both a reference book and how-to guide, the book includes studies and advice from international experts and pioneers in the field on a wide range of topics, including:
Wound healing and scar treatment
Accelerated healing of burn wounds
Effectiveness of ESWT in aesthetic dermatology
ESWT for skin rejuvenation in the face
Treatment of cellulite
Impact of ESWT on dermal microcirculation
Treatment of skin ulcers
Positive impact of ESWT on diabetic foot syndrome
ESWT treatment for secondary lymphedema in breast cancer cases
Reserve your copy now for just $42 (plus shipping and handling). Simply fill out the form, and we'll email you a purchase agreement so you can place your order.