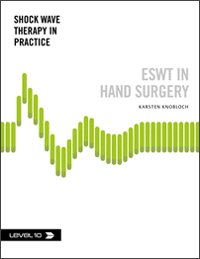 Price: $48 + shipping/handling
ESWT in Hand Surgery is an essential clinical textbook, especially if you're a hand surgeon or treat hand cases.
Esteemed medical expert Dr. Karsten Knobloch, FACS, presents his own work along with the results of international shock wave treatment experts as they successfully treat patients using shock wave therapy alone or in combination with other therapeutic modalities.
Based on the latest research and their own clinical experiences, the authors provide a plethora of specific treatment recommendations and advice for cases involving bones, tendons, muscles, soft tissue and nerves, including:
Scaphoid fracture
Ulnar impaction syndrome
Trigger finger
Ganglions
Hand spasticity
Dupuytren's disease and knuckle pads
Carpal tunnel syndrome
And much more!
Reserve your copy now for just $48 (plus shipping and handling). Simply fill out the form, and we'll email you a purchase agreement so you can place your order.