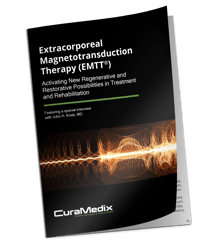 EMTT and the MAGNETOLITH, powered by STORZ Medical, are changing how medical professionals are treating diseases of the musculoskeletal system.
Evidence-based and non-invasive, EMTT is ideal for treating lower back pain, arthritis, as well as inflammation of tendons and joints.
In this new White Paper from CuraMedix, Extracorporeal Magnetotransduction Therapy (EMTT): Activating New Regenerative Possibilities in Therapy and Rehabilitation, you'll delve into this innovative technology and treatment, as well as discover more about the clear advantages of this modality which generates patient and practice wins.
You'll learn:
What is EMTT?
The launch of EMTT in the U.S.
Primary indications for use
The advantages of EMTT
Facts, figures, and parameters of EMTT
EMTT in practice
A Q and A featuring John Knab, MD
Harnessing the power of EMTT for your practice and patient benefits
Fill out the form to the right to download now!